In what culminated into a historic rally in India, over two hundred thousand workers, farmers and agricultural labourers from different states in India marched together from multiple locations in the capital city to the parliament.
The neoliberal policies rigorously pursued by the current government led by the far-right BJP, have adversely affected the livelihoods of people in all these occupations, which led people from all three sectors to come together in a show of united force, and with a common agenda.
Also joining them, in solidarity and with a set of demands of their own, were unionized workers from various public sector industries, which have been under constant assault by a government that seems determined to all but eliminate the sector to make way for private profiteering.
Tens of thousands of farmers from across the country, mobilized by All India Kisan Sabha (AIKS), agricultural labourers organized under the leadership of All India Agricultural Workers Union (AIAWU) and industrial workers unionized by Centre of Indian Trade Unions (CITU), began arriving from different states via trains to the capital city from September 3.
The organizers originally planned to accommodate protesters at Ramlila Maidan – a large public ground 5 kilometres from parliament but the heavy rainfall left most of the ground unusable. With slush covering every inch of the ground, platforms were constructed over which tents were set up, in which thousands rested at night.
The rest of the protesters from different states, were accommodated in different locations including Gurudwaras (place where the Sikhs offer prayers) and a large mosque in the city called Nizamuddin Darga.
In the rally from Ramlila Maidan to the Parliament, over 50,000 people marched together, waving thousands of red flags, shouting slogans exhorting peasants-workers unity and demanding remunerative prices for crops, loan waivers, land for landless, reining in of price-rise, more jobs, better job-security and an end to privatization of public sector. Smaller groups of five thousand people began rallies from different locations to parliament, making the discontent heard from across the capital city.
Discontent was the mood of masses in the country in 2014, when the then incumbent government led by the Indian National Congress was dealt a humiliating defeat in general elections. The country was reeling under the stress of a severe agrarian crisis which pushed hundreds of thousands of farmers to committing suicide and a massive unemployment problem whose effect was further intensified by unchecked price rise. In his campaign, now Prime Minister Narendra Modi, promised 20 million jobs each year, a Minimum Support Price (MSP) of 50% over the real cost of production for crops, and the moon.
The Great Betrayal
"We all believed him. We thought at last somebody is here to offer us relief. We all cheered 'Modi! Modi!'. We made him win. And he has taught us a lesson. He will not get a second chance in 2019," said Vijay Sadphale, a farmer from Maharashtra, deep in debt after the oranges and Bt Cotton which he had produced on his 3 acre land, spending two hundred thousand rupees, sold for only 75,000 rupees.
Such is the plight of many others in his village in Amravati district, from where 50 people, who insisted that they were there to represent their whole village, had come to attend the rally from over thousand kilometres away. "Out of the 10,000 people in our village, 4,000 are comrades," said another farmer, Vijay Pehenkar, with pride.
Shortly after the 2014 elections, groups of farmers appealed to the Supreme Court to get the government to fulfill its promise by offering MSP and the government told the court that the measure would distort the market and hence was not possible.
Barely year after this government came to power, the already alarming rate of farmer-suicide under the previous government had risen further by 42%. Agriculture – a sector employing 52% of the country's workforce – was growing at an abysmally low average rate of 3.5% over the last three years of the previous government. This rate was halved over the first three years of current government. Slipping three positions in the global hunger index last year, India trailed behind Bangladesh, North Korea and even the war-torn Iraq, leaving Afghanistan and Pakistan as the only two Asian countries hungrier than India.
With the increasing unviability of making a living from farming since the neoliberal reforms undertaken in 1990s, an average of over 2,000 farmers having been abandoning full-time farming as a profession everyday. This is reflected in the increase in the number of agricultural labourers, which, as Thirunavakarasu of AIAWU pointed out while addressing the demonstration, has now reached 150 million.
The Mahatma Gandhi National Rural Employment Act (MGNREGA), passed in the year 2006 guarantees at least a 100 days of employment at minimum wage to all rural households. It has been systematically downsized under the current government.
"57% of the funds for MGNREGA", Thirunavakarasu said, have been held back by the government, resulting in "wage arrears of four to six months". Far from providing 100 days of employment to each rural household, which is barely enough to address the crisis, only 30-40 days of works has actually been provided per year under the act.
"The challenges posed by neo-liberal policies are such that they are destroying all working people's lives"
Apart from finding jobs as labourers in rural areas under MGNREGA, many who have given up farming counted on underpaid and insecure contractual employment in manufacturing and construction sectors in urban areas. These sectors, have not only failed to create enough new jobs to accommodate those who are being pushed out of farming, but has in fact lost a large portion of the existing jobs.
While the election promise was to create 20 million jobs per year, for the first known time since independence, India, soon after elections, saw an absolute decline in employment. In other words, not only were sufficient jobs not created to accommodate the new workforce entering the job market (thus avoiding an increase in unemployment rate), but even the existing jobs were lost.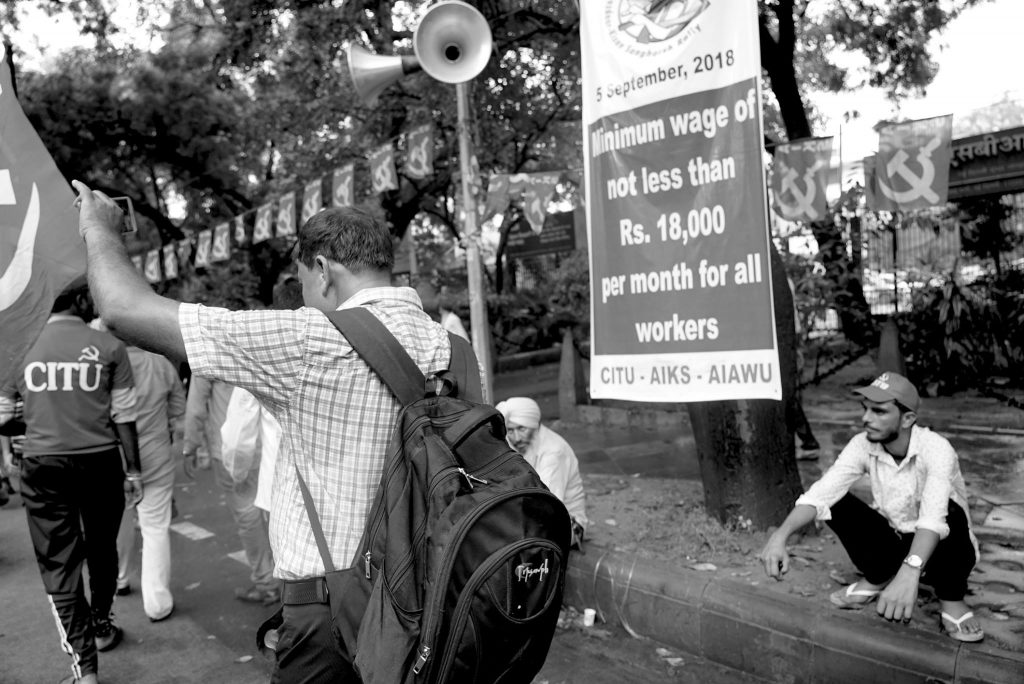 By the end of three years, when there were supposed to be 60 million new jobs, only 1.5 million new ones were created – i.e 2.5% of what was promised. This was half the number of new jobs created over the three years preceding the current government's rule.
The number of people directly recruited for government jobs, which is widely perceived as a secured and reliable form of employment in the country, saw an 89% decline in 2015 as compared to 2013.
The rate of new employment creation – as low as 1.5% of the rate at which the workforce is growing – adds to the reserve reserve army of labour 29,550 everyday on an average, which also has the effect of lowering the wages of those employed.
Instead of filling the hundreds of thousands of vacant government posts, the government, in line with the neoliberal diktat of reducing the size of public sector and expenditure, has decided earlier this year to abolish all the posts that has been vacant for over 4 years. This attack on the public sector brought All India State Government Employees' Federation, and Confederation of Central Government Employees and Workers to the rally.
"The challenges posed by neo-liberal policies are such that they are destroying all working people's lives. Hence they need to be fought by this unity," said Tapan Sen, general secretary of CITU, emphasizing the importance of the peasants-workers unity that was demonstrated at the rally today.
The announcement at the end of the demonstration that at the trade union convention scheduled on the 28th of this month, a call will be given for a two-day industrial strike early next year – which will follow another mass-action by the end of November when numerous mass organizations of farmers, workers, tribals and other exploited sections will jointly march to the parliament and occupy it for three days – was received with jubilant cheers from the crowd.