Over 100,000 students mobilized in Bogota and major cities in Colombia on October 10, seeking an increase in the budget for public higher education, reassessment of the student debt, financial support for the National Learning Service (SENA), and freezing of enrollments to private higher education institutions. They also demanded that the right to social mobilization be respected.
The National Pedagogic University (UPN) was the starting point of the historic student mobilization. From 8 am onwards, young students appeared in large numbers. Their placards,  banners, flags, t-shirts, slogans and dances all demonstrated that as a sector of society, they firmly believed that Iván Duque and his government didn't represent them.
The mobilization was historic and reminded many of the last major such protest in 2011. Many outsiders who were unaware of the issues involved nonetheless expressed solidarity with the students. These included users of the TransMilenio system [a rapid bus transit system that serves Bogota], whose service was temporarily suspended due to the march.
As innumerable youth marched on the streets, the graffiti, stickers and posters added to the color of revolt. At the Plaza de Bolívar, where the youth congregated, the youth read out their demands to the government of Iván Duque.
Besides Bogotá, the cities of Medellín, Cúcuta, Pamplona, Popayán and Bucaramanga saw large-scale mobilizations by students, teachers and parents, who sought a free, dignified, inclusive and quality education.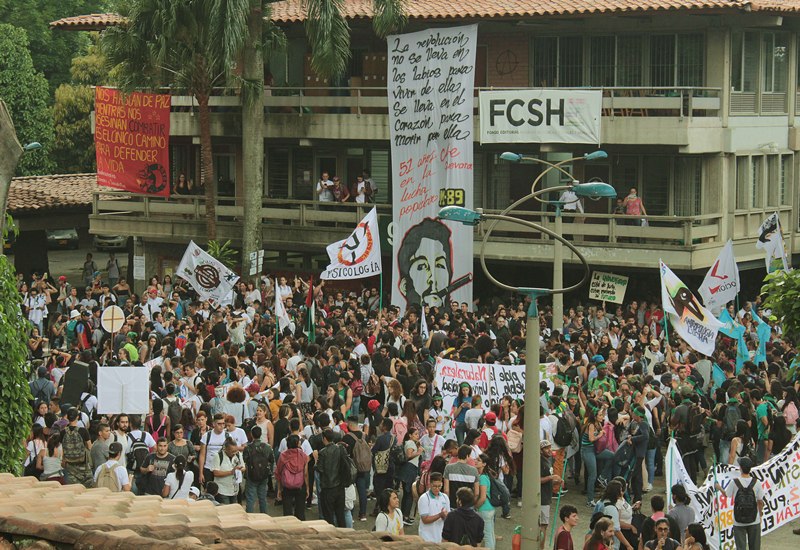 "It has been many years since the streets have been crowded in defense of education. It is also clear that it is necessary to go beyond mobilization into action that forces the government to accept the students' demands. 500,000 million pesos are not even 0.5% of what education needs", said Isaac García, a member of Colectivo Fuerza Popular [People's Strength Collective].
Even as the mobilization was happening, Alberto Carrasquilla, minister of finance, declared that the national government would allocate only $140 billion for public higher education in 2019.