In India, 400,000 defence civilian employees' have embarked on a three day strike against the current government's privatisation rampage and disinvestment in defence public sector undertakings. The strike, which began on Wednesday, has been declared a complete success as ordnance factories, naval dockyards, station workshops, army depots, etc. across the country witnessed a complete shutdown.  
"In all major defence units in Delhi, Chennai, Pune, Jabalpur, Kanpur, Mumbai, Agra, Kolkatta, and other units which are in isolated areas, the strike was a success. It will go on till 6 am on January 26. All the government-controlled defence industries have come to a standstill," C Srikumar, general secretary of All India Defence Employees' Federation (AIDEF), told Peoples Dispatch.
The other two unions, Indian National Defence Workers' Federation (INDWF) and Bharatiya Pratiraksha Mazdoor Sangh (BPMS), along with the AIDEF, are the major defence employees' federations under which around four hundred thousand defence civilian employees are on strike.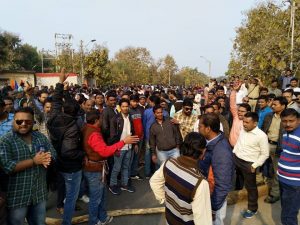 The three-day strike has been called to protest against the dismal conditions in India's defence public sector units and the Bharatiya Janata Party (BJP) led far right government's continuous attempts to weaken the country's indigenous defence production capabilities by handing over contracts to private and multinational corporates.
In a press release issued by the AIDEF prior to the strike, the union stated that under the guise of the government's much hyped policy of 'Make in India', the authorities are giving defence manufacturing contracts to private and multinational corporates. 100% FDI (Foreign Direct Investment) in defence has also been introduced for this purpose. But these products were already being manufactured by public sector ordnance factories, whose fate has now become uncertain.
More than 275 defence products being manufactured in 41 ordnance factories have been declared "non-core", and their production has been handed over to private companies. These include arms, ammunition, rifles, bombs, missiles, etc. Because of this, 25 ordnance factories are severely affected along with the workers employed in them.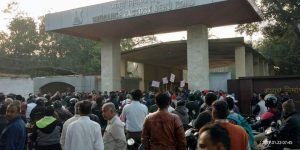 "The only objective of this government is to benefit the corporate sector. This has nothing to do with the national security," Srikumar said.
The Director General of the Controllerate of Quality Assurance (Electronics) in Bangalore, Ravindran Trivai, also pointed to the risk this poses to the quality of the products being procured.
"What people and the media need to analyse is that whether a firm that manufactures such products will be able to meet the quality requirements of the army or not. Government says that we should buy from private only because with government products, there is a delay in supply. When the government buys an item from the market, it takes minimum three months to complete all the formalities. But the private person will go to the market, buy the item, and manufacture it," he told Peoples Dispatch.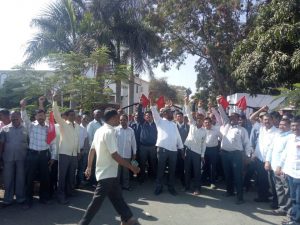 Quality assurance itself is being outsourced in the name of third party inspection.
The BJP government has not only decided to stop further investments in the Ordnance Factory Board (OFB) and other defence public sector undertakings (DPSUs), but has also moved to sell stakes in the two major DPSUs – the Hindustan Aeronautics Limited (HAL), and Bharat Dynamics Limited (BDL).
Apart from this, there is a rapid increase in contractualisation of workers, closure of military farms which supply milk to soldiers, closure of station workshops and army depots. The eight army base workshops are being handed over to the private sector under the GOCO model — Government Owned Corporate Operated.
Even defence research is facing a similar crisis with operations and newly developed technology by Defence Research and Development Organisation (DRDO) being handed over to private sector.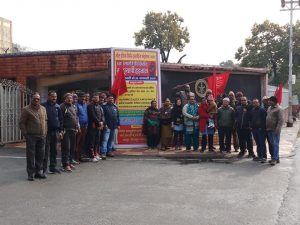 With the DRDO's manpower reduced, scientists are being hired for these jobs on a contractual basis.  
"The government is appointing scientists for a project for one year, two years, and after that, there is no job for them. The person coming for one-year job can leak the documents he/she gets, which threatens our security. All this can happen. Nobody is thinking about that," Ravindran said.
The striking workers are also demanding their right to pension, which has been taken away under the National Pension System (NPS). Under the NPS, employees are only receiving meagre pension amount of Rs 1,000 to Rs 2,000, as opposed to the minimum amount of Rs 9,000, plus a daily allowance, under the Defined Pension Scheme.
Srikumar said there has been no response from the government to the strike as of now. The three federations had also protested at the Parliament Street in Delhi on February 15 and on March 15 last year on these issues, but their demands were not paid heed. After this strike is over, the AIDEF plans to continue their campaigning action against the pro-corporate policies of the government.
The unions states that their future course of action will also be dependent on the upcoming general elections in India. "Depending on whichever government comes, we will go to the government and tell our problems. If they listen, it is okay. Otherwise our national executive will meet and take a decision on what to do," said Srikumar.