Many refer to the "green wave" that has taken Latin America. In the past several years, mobilizations and grassroots organizing aimed at combating repressive legislation that inhibits the right to legal, safe and free abortion in different Latin American countries have multiplied exponentially. Hundreds of thousands of women, lesbians, transvestites, transgender and non-binary people have held up the green scarf, which has its roots in the Argentine movement, to represent their unified and diverse struggle for the right to choose.
The struggle for legal abortion has been one of the central causes of Latin America's robust and radical feminist movement which transcends colonial, euro-centric and north american notions of feminism. The feminist movement in Latin America holds at its core the voices of the most marginalized: poor women, peasant women, indigenous women, Afro-descendant women, sex workers, transgender people, travestis, travas, workers who are deeply affected by the patriarchal capitalist system.
This past March 8, on International Women's Day, hundreds of thousand women, lesbians, transvestites, transgender and non-binary persons as well as feminist activists, movements and organizations across Latin America and the Caribbean participated in the Feminist Strike flooding the streets with their undefeatable passion and determination to conquer equal rights.
A great demonstration of women's power and strength was witnessed in all countries across the continent. Thousands took the streets to demand cessation of femicides, transvesticides, rapes, gender-based crimes, aggression against women, glass ceiling and unequal salaries. In many places, the access to legal abortion remained a central focus. Feminists are still struggling for this essential human right. Women, transgender, non-binary and other gender diverse people still do not have the liberty to decide for themselves and for their own bodies.
According to the World Abortion Policies 2013, out of the 33 Latin American and the Caribbean countries, only 4, namely Cuba, Guyana, Mexico and Uruguay, allow elective abortion, which means women in these countries can access legal abortion in cases other than rape or risk to a pregnant woman's life or health. Whereas, in countries like Chile, Dominican Republic, El Salvador, Honduras and Nicaragua, abortion is completely banned and criminalized. According to The Guardian, over 6.5 million abortions take place in the region each year, but three-fourths of them are illegal and often performed in unsafe ways.
The following are four case studies from Latin America about the current state of the access to abortion in these countries and the struggle being waged to guarantee the right of full bodily autonomy and reproductive freedom for women, lesbians, trans, transvestites and non-binary people.
Argentina
Hundreds of thousands of women, lesbians, bisexuals, trans and queers as well as several members of feminist movements, social organizations and trade unions went on strike and mobilized across Argentina to demand the government to address and approve the bill for Voluntary Termination of Pregnancy (IVE) this year. In August 2018, the Senate rejected the Bill of Voluntary Interruption of Pregnancy, which was passed in the House of Representatives.
In Buenos Aires, nearly 300,000 people marched from the National Congress to Plaza de Mayo. While in other provinces and cities such as, Córdoba, Mendoza, Mendoza Capital, Bariloche, Viedma, Rosario, Salta Capital, Ushuaia, La Plata, Mar del Plata, Saladillo, Jujuy, Neuquen, Tucumán, etc., members associated with National Campaign for the Right to Legal, Safe and Free abortion and Ni Una Menos [Not One Less] collective, held activities and rallies.
Abortions are illegal in Argentina, but the FAL ruling, established in 1921, only allows it to be performed until the 24th week of gestation in case of a rape and when the life of a pregnant woman is at risk. Though this does not mean that abortions do not happen in Argentina. More than 500,000 abortions are performed every year, with a majority of them being unsafe and clandestine, according to a report by the Documentation Center and Library [Centro de Documentación y Biblioteca (GIRE)]. The majority of women affected by unsafe, clandestine abortions are poor women.  The same report indicate that more than one poor woman dies a day from a clandestine abortion due to its execution in poor sanitary conditions.
According to the latest government report, the mothers of more than 91,500 children born in 2017 were girls between the ages of 15 to 19 years, out of which, 2,493 were girls with age less than 15 years. Many such pregnancies are the result of rape by family members.
Feminists have also demanded the implementation of the Law on Comprehensive Sexual Education (ESI), strengthening of the 'National Program for Sexual Health and Responsible Procreation' and compliance in all districts of the 'protocol for the comprehensive care of people with right to the legal termination of pregnancy (ILE)' after the 12-year-old rape victim in Jujuy province and 11-year-old in Tucumán province were denied the right to ILE, forced to a C-section and systematically forced into motherhood.
The effective implementation of the prohibition of sexual harassment Law No. 26,485 and a budget to guarantee prevention and eradication of sexist violence suffered by women in all areas and to allocate equal opportunities and rights between men, women and dissident identities, are some of their other demands.
The slogan of the National Campaign for the Right to Legal, Safe and free abortion: "Sexual education to decide, contraception to not abort, legal abortion to not die" reflects the sentiment of the movement that is fighting for this right. Gaining the right to legal abortion is not enough, there must be deeper changes within the society, education around sexual health, diversity and decision-making.
The new bill on voluntary interruption of pregnancy, whose content details have not been revealed, is expected to be addressed in April.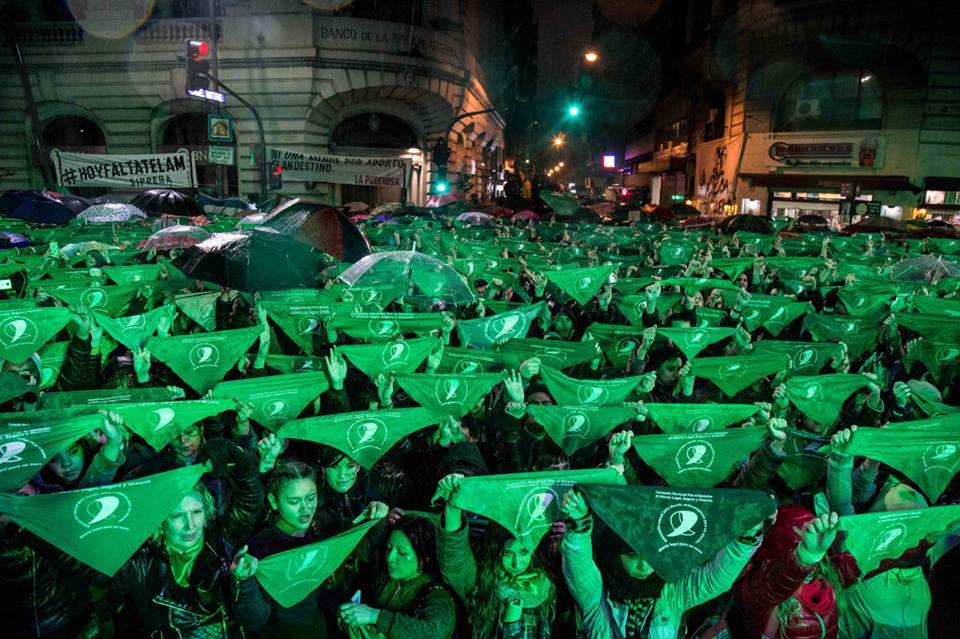 Colombia
Since 2006, the Colombian Constitutional Court opened the door to involuntary interruption of pregnancy, abortion, permitting that it could take place in three circumstances: 1) When the pregnancy puts at risk the health -physical or mental- of the women or her life. 2) When the pregnancy is the result of rape or incest. 3) When there are malformations of the fetus that are incompatible with life outside of the uterus. At the moment the Court's ruling does not limit the weeks in which the pregnancy can be interrupted.
In October 2018, Cristina Pardo, a supreme court judge, sought to limit the weeks in which a person could access the voluntary interruption of pregnancy in Colombia. Various organizations in the country that fight for reproductive rights and access to reproductive health feared that the time limitation on the access to abortion would put at risk the life and health of women and increase the already existing barriers that impede the guarantee of this constitutional right.
Fortunately, her attempt failed, the Constitutional Court ruled six to three to reject the proposal which would limit the access to abortion up to 24 weeks.
However, activists and organizations point out that there are still many factors which limit access to abortion and lead many to carry-out unsafe clandestine abortions, such as lack of knowledge of the legal framework, insufficient application and limited interpretation of the three circumstances which lead to the unjustified denial of the service, irregular demand of additional requisites not established in the court's decision. The dysfunctional healthcare system of Colombia is also a barrier in guaranteeing access, as all patients are forced to suffer long waits and often are forced to use a legal action called a "tutela" in order to be attended. The general disinformation about abortions as well as cultural stigmatization also play a role in infringing on this constitutional right.
Profamilia, a sexual and reproductive health center in Colombia, reported that in 2017 10,517 legal abortions occurred while in 2016 400,000 induced or clandestine abortions took place. They also report that 44% of unplanned pregnancies in Colombia end in induced abortion.
Activists and organizations in Colombia highlight that the only way to way to fully guarantee the full sexual and reproductive rights of women, transgender and gender diverse people is the complete decriminalization and legalization of abortion, accompanied by comprehensive sexual education and access to contraception.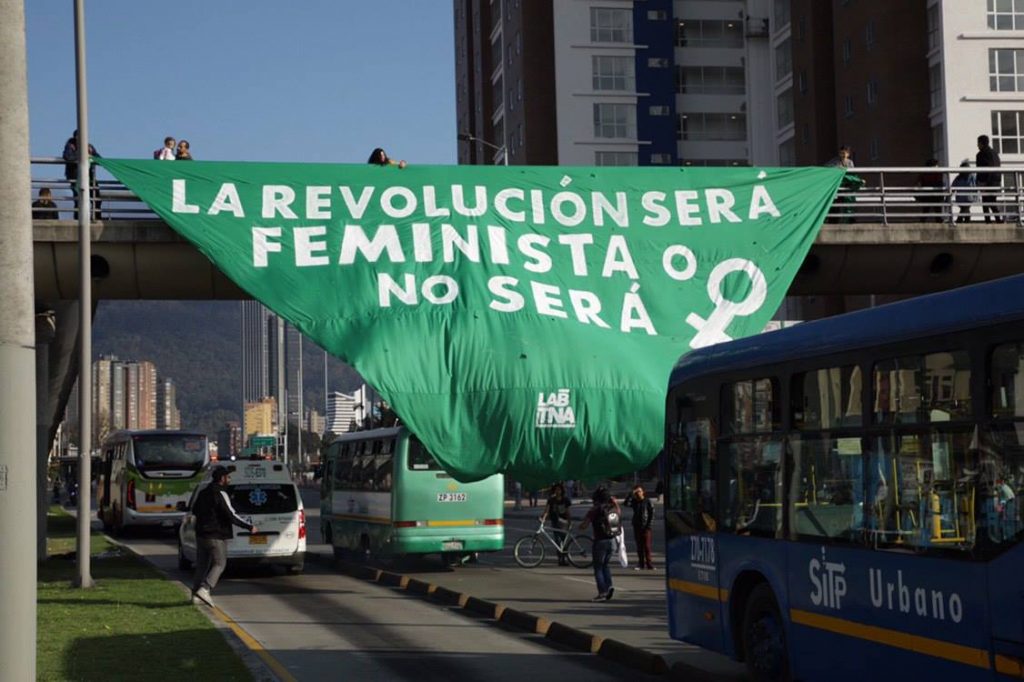 Ecuador
Hundreds of women and members of various women rights organizations across Ecuador, marched from the Ministry of Labor to the National Assembly, in Quito, demanding the continuation of the debate on the decriminalization of abortion and a better application of the law for violence against women. Fundación Desafío, Las Comadres, Rescate Escolar and Vivas Nos Queremos are some of the collectives and organizations that gave the call for demonstration.
Abortions are illegal in Ecuador, except in two circumstances: if the life of the pregnant woman is at risk, or if the pregnancy is the result of the rape of a woman with a mental disability. In January, the National Assembly began debating a bill to decriminalize abortion in cases of rape, incest and forced artificial insemination. But the session was suspended due to lack of quorum. The existing abortion laws in Ecuador are in force since 1938. The last time the country debated whether or not to legalize abortion in cases of rape, in 2013 and the assembly voted against it.
Child rape and child pregnancy are the major concern of the feminist movements in Ecuador. According to the Vital Statistics and Births database of the National Institute of Statistics and Census, in the last three years 13,969 women were raped, 718 of the victims were under 10 years of age, while 449 were raped by relatives, teachers or people close to them. The same report indicated that between 2008 and 2018, more than 20,000 girls under the age of 14 gave birth, which means annually there are around 2,180 minors who have become mothers, victims of sexual abuses.
Women rights groups argue that the prohibition of abortion affects the working-class women more. Women from rich background also face sexual aggressions, but they have the resources to pay for an abortion in safe conditions or travel to other countries to end their pregnancies. It is the poor women, who are forced to look for street abortions that can lead to complications, infections and death.
The bill has received strong opposition from the influential Catholic Church and the conservative members of the assembly. Many of their arguments focus on increasing penalties for violators, rather than facilitating access to abortion.
The bill must go through two rounds of debate in the assembly before legislators cast their votes. The legislation must be approved by the president of the Republic Lenin Moreno, who also has veto power. The process is expected to be completed in June.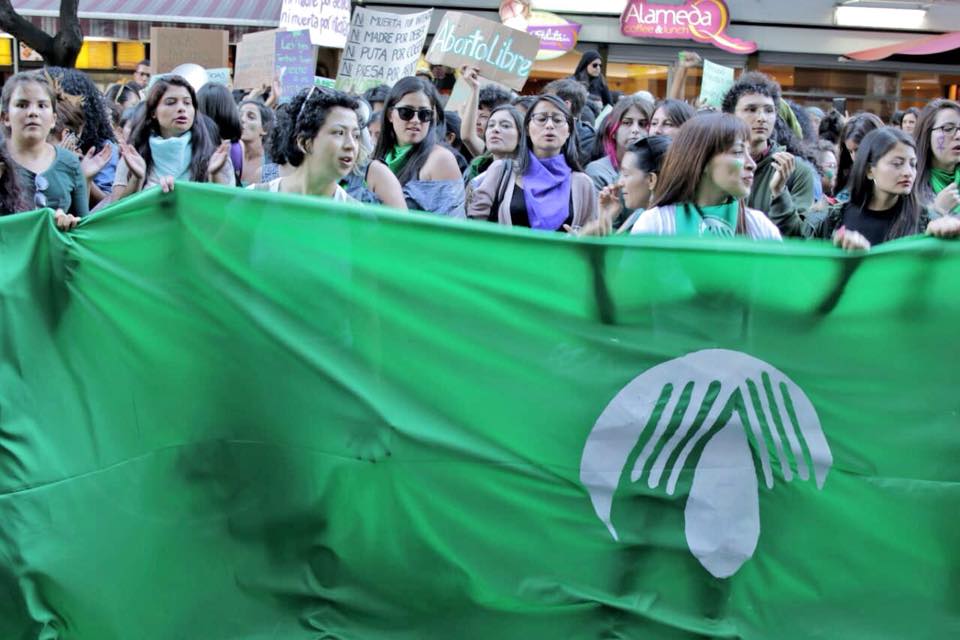 El Salvador
El Salvador is one of the countries with the strictest legislation around abortion. In 1997 the Legislative Assembly passed a law which prohibits all forms of abortion and makes it a criminal offense to have an abortion and to assist someone in procuring or carrying out an abortion. The outright prohibition on abortion has dire consequences.
On one hand, it forces many to seek out clandestine and dangerous abortions which can cost them their lives, 11% of women that have abortions in El Salvador have died as a consequence of the unsafe sanitary conditions, according to the World Health Organization.
It also has facilitated the incarceration and criminalization of poor women who do not have access to health care, education or opportunities. Since the law was passed, over 30 women have been tried and sentenced to long sentences after having suffered miscarriages or obstetric emergencies. The legal procedures that have put these women behind bars, away from their families, have been full of irregularities and generally lack hard evidence.
The case of 20 year-old Imelda Cortez Palacios is emblematic. Since 2017, Imelda has been serving a 20 year sentence after suffering a birth outside of the hospital. Her pregnancy was a result of rape by her step-father, who sexually abused her since she was 12 years old. Despite the fact that the baby survived the birth, the Attorney General accused her of attempted homicide and condemned her to 20 years in prison.
Imelda is one of dozens of women who are currently behind bars for similar situations. However, thousands of people within El Salvador and across the world have mobilized to demand freedom for these women. Most recently Alba Lorena Rodriguez, who in 2010 was sentenced to 30 years in prison, separating her from her two young daughters, as well as Maria del Transito Orellana, and Cinthia Marcela Rodriguez had their sentences commuted days before the Feminist Strike on March 8.
The tireless campaigning of feminists in El Salvador to free these women has paid off, between 2018 and 2019, 13 women with similar charges have been freed, such as Teodora Vásquez who spent 10 years in prison charged with murder after she suffered complications in her pregnancy which led to the death of the baby. Though, many more women are still suffering the consequences of the patriarchal and violent legislation, at least 18 women are still incarcerated and while the complete prohibition exists, women will still be objected to dangerous clandestine abortions and risk criminalization.
In 2018, two legislators in El Salvador proposed bills to legalize abortion under specific circumstances but they were never brought to a vote.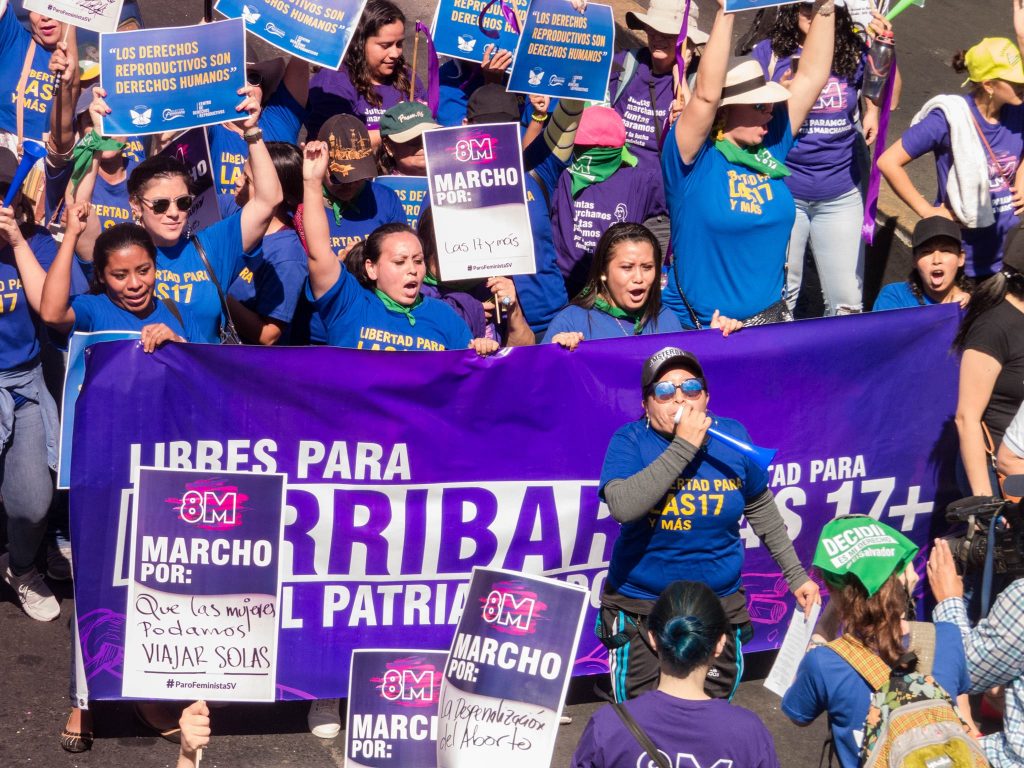 ○
The overwhelming participation of feminists across the continent represent their unity and strong determination to continue fighting every day until they achieve a right to unconditional legal abortion.