On May 31, Israeli forces opened fire at Palestinians going for Friday prayers at the Al-Aqsa mosque and killed 16-year-old Abdullah Louai Gheith. He, along with others, had attempted to cross the restricted Wadi Abu al-Hummus area in order to reach the east Jerusalem mosque. Two others received bullet injuries.
According to Palestinian health authorities, 21-year-old Mu'men Abu Tbaish was rushed to the hospital in critical condition.
Palestinians from the West Bank attempting visit the Al-Aqsa mosque are often humiliated and attacked by Israeli forces and illegal Israeli settlers. As the mosque is located in Israeli-occupied Jerusalem, Israel has imposed strict restrictions on who can visit and when and who is granted permits. For Palestinian men in the West Bank between 13 and 40 years, the restrictions are much tighter.
At the Qalandia checkpoint, which is the central checkpoint connecting the West Bank and Jerusalem, a man was kidnapped by Israeli forces while trying to enter Jerusalem for prayers at Al-Aqsa.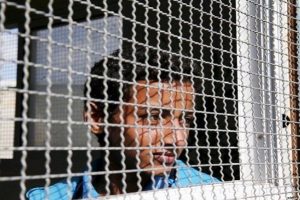 Targeting of Palestinian children by Israeli forces
The killing of Abdullah Louai Gheith occurs in the context of an increase in attacks on Palestinian children by Israeli forces in the last year. The targeting of Palestinian children by Israel, which is considered a crime against humanity, has witnessed a steep rise since 2017, when 15 Palestinian children were killed by Israel.
According to Defense for Children International Palestine (DCIP), 56 Palestinian children were killed by Israeli forces in 2018 and so far in 2019, 15 children have been killed.
In addition to the systematic murders, Palestinian children are also victim to detentions by the Israeli Occupation Forces. DCIP found that "More than half of the children arrested by Israeli forces whose cases DCIP documented reported experiencing verbal abuse, threats, humiliation or intimidation. The vast majority, over 75 percent, said they were physically abused during the course of their detention." There are currently 205 child detainees.