Inspired by the Yellow Vests, a new movement is rising in France called the Gilets Noirs, or the Black Vests. The Gilets Noirs is a movement of undocumented migrant workers in France who are forced to live and work in precarious and exploitative conditions due to their status.
Their primary demand is that all undocumented migrants in France should be granted residency status. They are also demanding an overall respect for their human rights, including their right to shelter, regular jobs, an end to police repression, racist treatment by law enforcement, closing down of refugee detention centers, among others.
On Friday, July 12, around 700 members of the Gilets Noirs peacefully occupied the Pantheon in Paris, raising these demands as well as calling for a meeting with the French prime minister Edouard Philippe. They protested beneath an emblematic statue which has the words, "Live Free or Die," written on it.
The group said in a statement on Twitter, "We occupy [the pantheon] because there are 200,000 empty homes in Paris and we sleep under the inter-changes of the ring road."
Malgré la présence policière renforcée, les #GiletsNoirs continuent de mettre l'ambiance au #Pantheon : "Qu'est-ce qu'on veut ? Des papiers ! Pour qui ? Pour tous !" pic.twitter.com/xYCcTLeNA9

— Thomas Clerget (@Thomas_Clerget) July 12, 2019
"We are undocumented, voiceless, faceless for the French Republic. We come to the graves of your great men to denounce your profanations, those of the memories of our comrades, our fathers and mothers, our brothers and sisters in the Mediterranean, in the streets of Paris, in the homes and the home prisons," the statement added.
Their protest was met with violent police repression. At least 50 people were injured and 37 people were arrested, 20 remaining in custody.
Nouvelles charges terribles. Les gens traités comme du bétail. Pas de mots. pic.twitter.com/r5ohJC7V3L

— Thomas Clerget (@Thomas_Clerget) July 12, 2019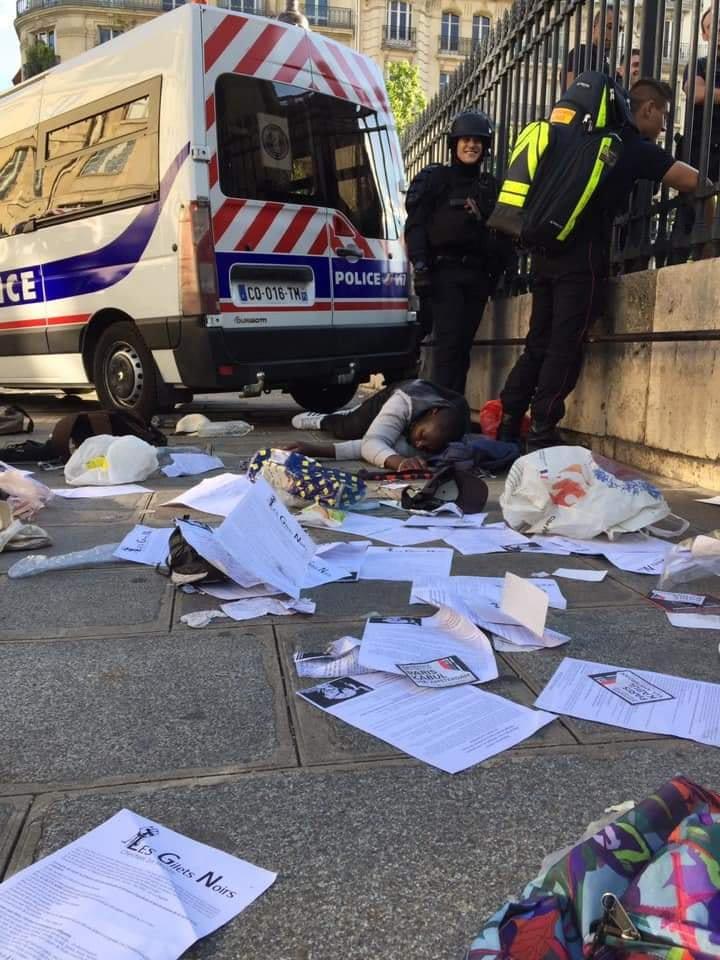 The previous protest actions of the Gilets Noirs have also attempted to highlight their precarious, exploitative working conditions, as well as the generally dismal living conditions.
A month ago, on June 12, the migrant activists had staged a demonstration by occupying the office of Elior, a French multinational catering company, in the business district of Paris. Elior was chosen due to the company's regular exploitation of undocumented migrant workers.
The protestors said Elior refused to pay undocumented migrants regularly, and often refused them overtime. When a worker raised this issue, the company threatened to report them to immigration authorities.
In addition to wage theft, Elior also profits off of keeping migrant workers in vulnerable conditions. The movement reported that Elior regularly refuses to sign documents for its migrant employees that would enable them to secure a regular immigration status. The French immigration authorities do not grant migrants papers unless the employer signs these documents. The protestors said this shows the partnership between French companies and the state in wanting to keep migrants in precarious conditions to continue exploiting them.
At this demonstration too, the Gilets Noirs had demanded a meeting with the prime minister as well as the CEO of Elior. They were able to meet with the management which gave them a written agreement to work on their demands.
Prior to this, in May, the Gilets Noirs occupied the Charles de Gualle airport in Paris to mark their anger against the forced expulsion of migrants. The demonstrations were aimed specifically at Air France, which carried out all deportations in collaboration with the French government.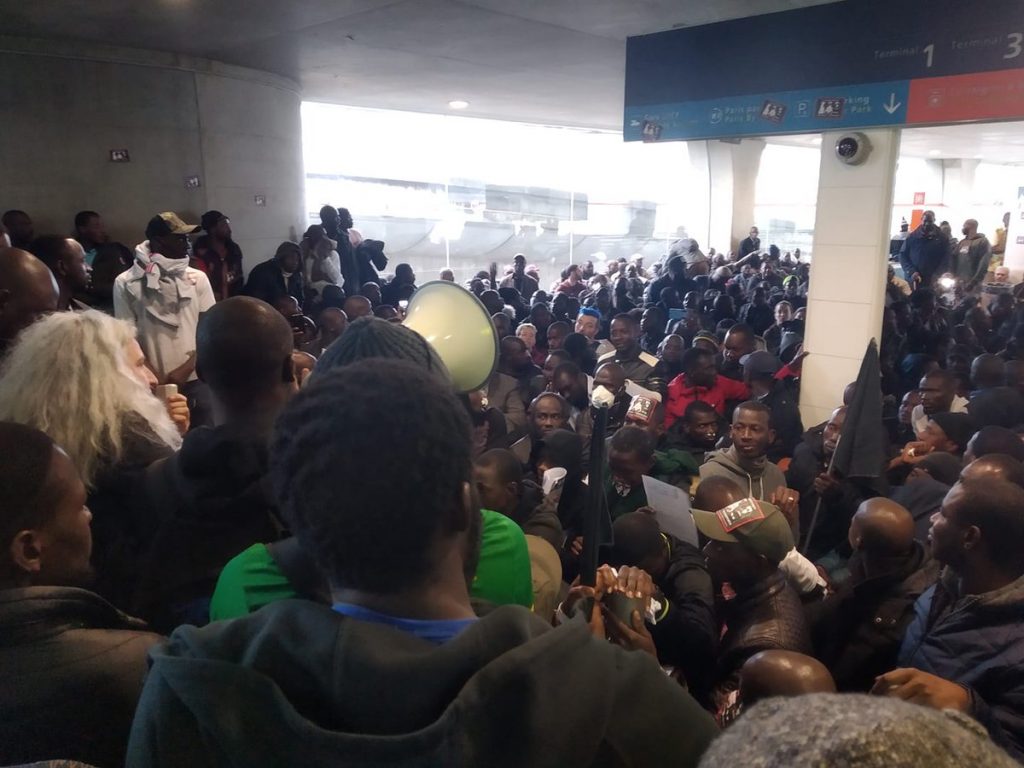 The protesters occupied the terminal 2F of the CDG airport which has the main Air France office and most of the internal EU flights. With this action, they wanted to draw attention to the freedom of movement enjoyed by EU citizens, in contrast to which, undocumented migrants only enter the terminal either when they are being deported, or as part of their work as cleaners, security guards, or baggage handlers.
The protestors demanded that the airline stop "any financial, logistical, or political participation in deportations."
France is responsible

A central message of the movement has also been to highlight the link between the imperialist actions of France and the exploitation of migrant workers in France.
Mamadou, a Gilets Noirs, told Luke Butterfly writing for OpenDemocracy, "They don't want countries in Africa to be independent, because then they can't make a profit from us. They just want us to stay down on our knees, and then they can exploit our resources and make profits. And so it was very important to talk about this as well while we are in La Défense [the Paris business district], because a lot of companies there are exploiting resources and selling arms in Africa. They are dividing people in Africa, so they can control them."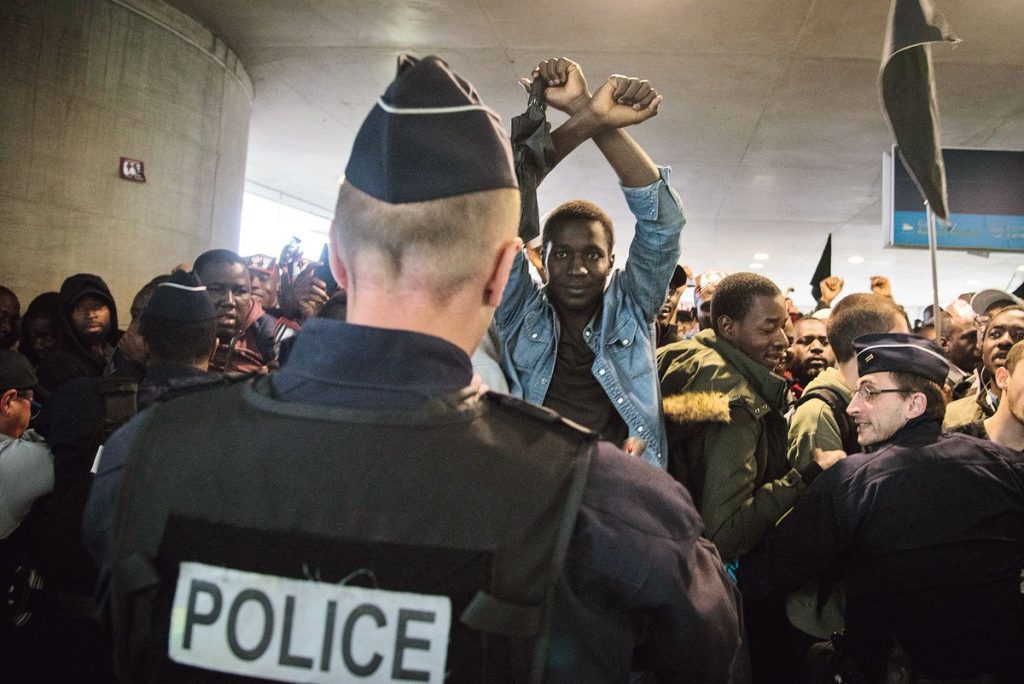 Beyond pointing out the profiteers and enablers of the repression of migrants, these collective actions have also given courage to many vulnerable migrants to speak up, demand their rights and stand in solidarity with their comrades.
The movement is working together with La Chapelle Debout, a rights group working in Paris for the last five years, focusing on helping migrants get access to housing and healthcare, resisting deportations, and other administrative issues. The Gilets Noirs are also working to join hands with the Gilets Jaunes, the yellow vests, the movement that inspired their struggle to gain momentum.
Ahmed Abdul Karem, a Sudanese refugee, said after the demonstrations against Air France, "Refugees have to be treated well, like human beings. Europe is the reason for the problems in Africa. Europe takes advantage of Africa. We are here just to survive, and yet we are not treated like human beings."
In the press statement released at the Friday protest, the Gilets Noirs said, "We are not simply fighting for documentation, but against a system that makes us undocumented immigrants."