As wildfires increase at a record rate in the Brazilian Amazon, a black smoke plunged São Paulo into darkness on Monday, Aug. 19, thousands of miles away from the rainforest, turning day into night in the country's largest city.
Before reaching the south and southeast of Brazil, smoke particles hit the Andes, creating an even thicker smoke as they combined with pollution from fires in Bolivia and Paraguay.
Brazil is recording the largest wave of wildfires in the last five years, according to its National Institute for Space Research (INPE).
Wildfires become more common as the summer dry season approaches in the Amazon and other forest areas in Brazil. However, these recent episodes are fires deliberately set by cattle ranchers and soy farmers to cut down forests and create pasture.
In Pará state, farmers and ranchers have actually declared a "fire day" two weekends ago, coordinating a massive burnoff of trees to draw the government's attention, claiming that "the only way to work is cutting down trees."
Meanwhile, the president of Brazil, Jair Bolsonaro continues to question deforestation data recently released by the INPE and has ultimately replaced the head of the institute – an outspoken critic of the recent policies – with an Air Force official.
Since January, the INPE reported 71,497 fires, an 82-percent increase over the same period last year, when 39,194 fires were recorded by the space research center.
Alberto Setzer, an INPE researcher, told the news website G1 that, while the dry season can make it easier for the wildfire to spread, all fires were caused by human activities.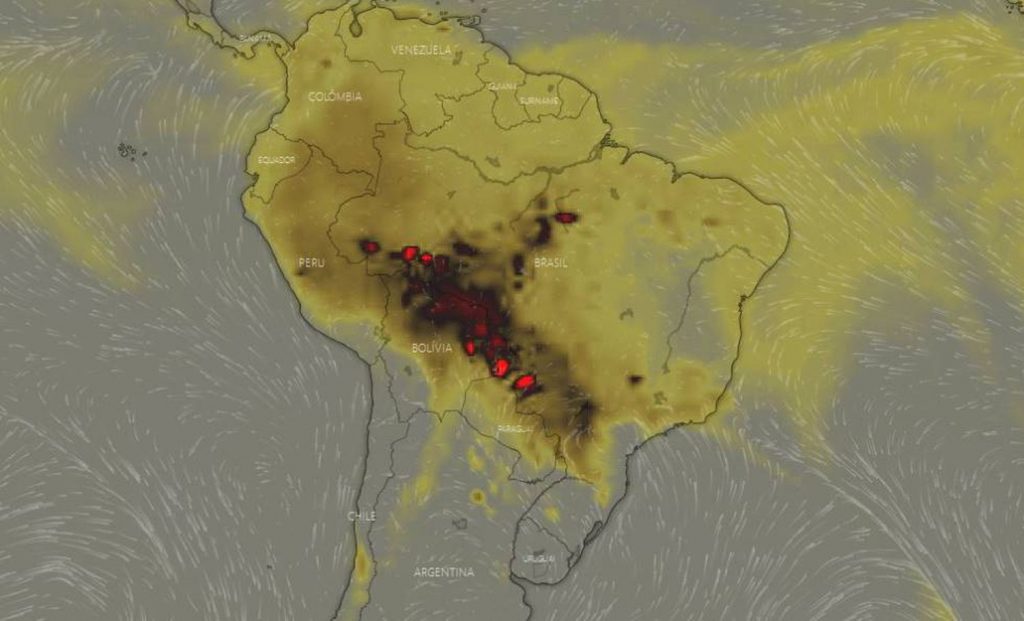 The Brazilian states where records of fires increased the most were Mato Grosso do Sul (260%), Rondônia (198%), Pará (188%), Acre (176%), and Rio de Janeiro (176%).
In only two days between Aug. 17 and 19, the INPE recorded 5,253 fires in Brazil, 1,618 in Bolivia, 1,116 in Peru, and 465 in Paraguay.
Santiago Gasso, a researcher with the US National Aeronautics and Space Agency (NASA), spoke with the news website UOL about the characteristics of the thick smoke that reached São Paulo and said that the particulate matter can travel great distances, leading to poor air quality, as well as impacts on the weather and the ecosystem.
"There is an important international component to it, because it leads to bad air quality in Paraguay, Argentina, and Uruguay," which he argues are not necessarily countries that produce a lot of fires and smoke.
IMAGEM | Vejam a Lua nesta noite em Livramento, na fronteira do Brasil com o Uruguai. A fotografia é de Anderson Alves. As partículas em suspensão na atmosfera da fumaça oriunda da Amazônia geram o efeito óptico que deixa a Lua com essa tonalidade incomum. pic.twitter.com/i9xiTEeUN1

— MetSul.com (@metsul) August 18, 2019