On September 22, in the Petorca province in the Valparaiso region of Chile, more than 100 farmers and ranchers peacefully demonstrated against the water crisis that is killing their animals and crops. Their protest however, was violently repressed by the national police force, the Carabineros.
In order to draw the attention of the right-wing government of President Sebastián Piñera to the crisis, the protesters demonstrated at three different points of the Ruta 5, an important national highway. The measure disrupted the movement of vehicles on both sides for hours, especially in the sectors of Quebradilla, Pullally and Longotoma in the La Ligua city.
In the Pullally locality, in an attempt to clear the highway, the Carabineros beat demonstrators and dragged them off the road. In addition, the police arrested at least 17 protesters. The wife of the mayor of La Ligua city who was marching alongside the citizens is one of the detainees.
Mayor Rodrigo Sánchez and City Councilman Oscar Belmar of La Ligua city, along with 80 other protesters demonstrated outside the city police station, demanding the immediate release of the arrested social and political leaders.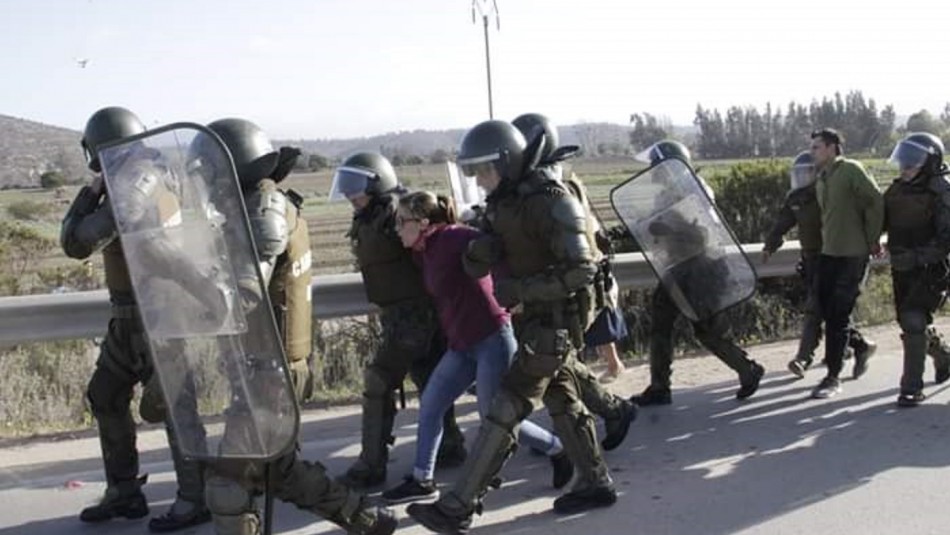 The National Confederation of Trade Associations and Organizations of Small Peasant Farmers of Chile (CONAPROCH) condemned the police repression and the insensitive response of the state. "We denounce the repressive action of the Carabineros of Chile against the community exercising its right to demonstrate peacefully, and the complicity of the National Government that silences and endorses these actions," said CONAPROCH.
The organization also denounced that the water crisis is a result of the monopolization of water by mining industry and agribusinesses, which leaves the inhabitants and small farmers without water. "The great socio-environmental crisis that the province of Petroca is experiencing for years, is due to the fierce extractivism, by the intensive monoculture of avocados, citrus fruits and walnut trees, irrigated with indiscriminate theft of water, protected by a Water Act and a dictatorial constitution that commodifies water, leaving our communities deprived of this community good," added CONAPROCH.
The slogans "This is not drought, this is plundering", "Abolition of Water Act", "Water for wealthy people or for all Chileans?", were written on some of the banners at the demonstration. The protest was also carried out against the mining companies that are polluting the environment of the province, directly affecting the agricultural activities and livestock.
The Petorca province has been suffering from water shortage for a long time. "It is necessary that the Government of Chile declare the Petorca Province as a catastrophic zone. Drought is sweeping our fields and plunging into despair smallholder farmers and ranchers. Emergency measures are not enough. State involvement is urgent," Mayor Sánchez had tweeted a month ago.