The people's rebellion in Honduras continues days after the the brother of president Juan Orlando Hernández was convicted in a case of smuggling. On Friday, October 18, Juan Antonio "Tony" Hernández was convicted by a federal court in New York of conspiring to import cocaine into the United States, using and carrying machine guns and making false statements to federal agents, among other charges. Hernández will be sentenced on January 17, 2020 and faces at least 30 years in prison and could receive a life term. Tony was arrested in November 2018 and has been in preventive custody since then.
The verdict led to massive protests against the endemic corruption and criminality of the government of president Juan Orlando Hernández (JOH), who is implicated in the case and accused of using drug trafficking connections to advance his political career. On Friday October 18, following the announcement of the verdict, protests broke out across cities and towns in Honduras to demand "Fuera JOH narcodictador!!" (Get out JOH narco-dictator). In the capital Tegucigalpa, central roads were blocked and barricades with burning tires were erected.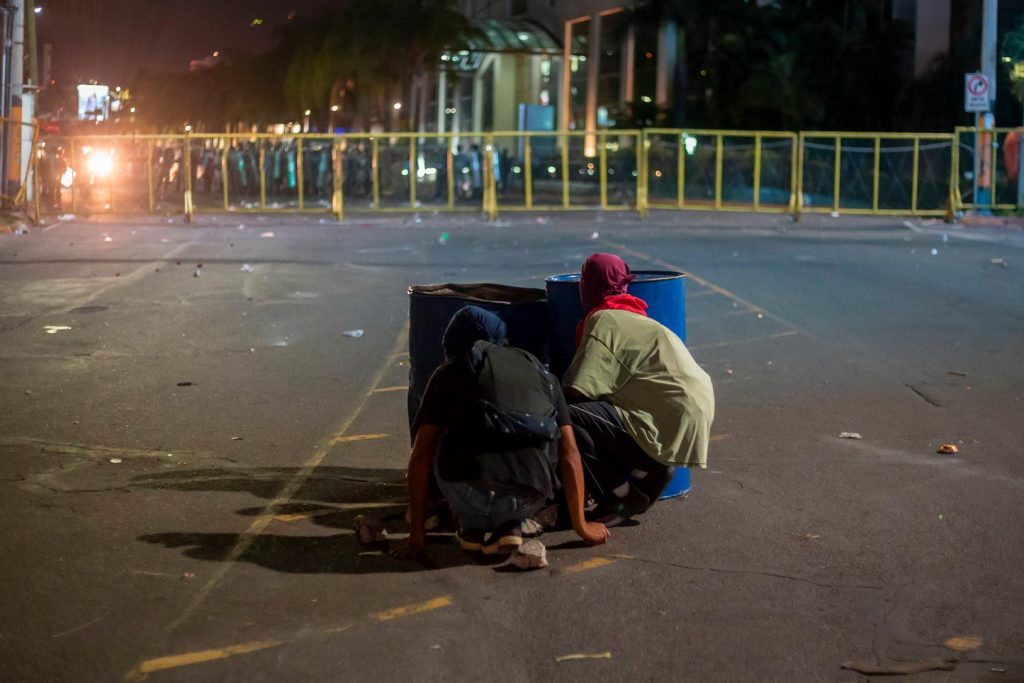 On October 21, people across Honduras participated in a national strike to continue increasing pressure on the government. Protesters mobilized and blocked several major highways and roads in Tela, Tegucigalpa, Nacaome, Juticalpa, San Pedro Sula, and Langue.
Meanwhile, supporters of JOH and members of his National Party have rejected the verdict and claimed that the conviction is based purely on the testimonies of those already involved in criminal activities. Tony Hernández was under surveillance and investigation by a special unit of the Drug Enforcement Agency since 2004 and the evidence, in addition to the testimonies of several individuals involved in drug trafficking, is overwhelming.
The Honduran National Police force also released a declaration of support to JOH and stated that they would not permit highway blockades or protests that interrupt the economic life.
Honduras has been in a state of nearly permanent mobilization against the government of JOH since he came back to power in November 2017 in an election marked by blatant fraud. Since then, the Honduran people have been on the streets against JOH and his policies of extractivism, dispossession of people and communities, repression, violence, corruption and criminality.
On August 3, Univision revealed that the US federal court trying Tony Hernández had also identified JOH as a co-conspirator in the case and alleged that he had used drug trafficking to "maintain and increase his political power". During Tony's trial, US prosecutors alleged that JOH received over USD 1.5 million in bribes from drug traffickers which was used for his presidential campaign in 2013. Activists in Honduras have long accused JOH and his National Party of having links to drug traffickers and using these for their political benefit. The legal process in US courts lent strength and substantiation to their charges.
On Saturday, October 19, the former president and leader of the Liberty and Refoundation Party (LIBRE), Manuel Zelaya, the former presidential candidate of the opposition, Salvador Nasralla, and the president of the Liberal Party, Luis Zelaya, announced the creation of a new political alliance for "the final offensive against JOH." The political front is called Coalition of Unity of the Opposition, Out Dictator".
The opposition alliance has joined Honduran social movements and organizations in calling for massive protests to bring a definitive end to the JOH regime.