In the backdrop of student agitations in various institutions over massive fee hikes (JNU, Jadavpur, Uttarakhand Ayurveda Colleges etc.), it is pertinent to flag why free public education is a must for a country like India, which still excludes a vast section students from vulnerable segments of society from going in for higher studies.
Let's begin with the government's own periodic labor force survey (PLFS). According to PLFS July 2017 to June 2018, the estimated number of households in India is 257 million, with a population of 1.07 billion, comprising 176 million rural and 80.5 crore urban households.
The average sex ratio in the country is 956 females per 1,000 males and the average family size is 4.2 members. According to this survey, 53% of rural males, 43% of rural females, 66% of urban males and 65% of urban females aged between 15 and 29 years have achieved secondary or higher level of education.
The labor force participation rate, as per the PLFS, is around 50% for the population aged more than 15 years in India and the worker-population ratio is around one-third (34%). The worker population ratio is 47% for the population aged 15 years and above (excluding children below 15 years of age). This is 58% for people with post-graduate and above educational qualifications.
A total of 51.7% rural and 53% urban males and 17.5% rural and 14.2% urban females are in the workforce. Since, the estimated rural and urban population is 759 million and 315 million, respectively, and the rural and urban sex ratio is 952 and 965, respectively, the rural male and female population is 389 million and 37o million crore, respectively.
The urban male and female population would be around 160 million and 155 million, respectively. Therefore, the size of the rural male workforce is around 200 million and that of the rural female workforce would be around 65 million. In urban India, the male and female workforce sizes would be around 85 million and 22 million, respectively.
Hence, the total estimated size of the workforce in India in 2017-18 is 372 million. Among these are 22.8% regular wage/salaried employees, 24.9% casual labor and the rest 52.2% are self-employed. Therefore, there are 85 million regular employees, 93 million casual laborers and the rest, around 194 million people, are self-employed.
In the self-employed category, 116 million are males and 37 million are females in rural India, with average monthly earning of Rs. 8,955 (USD 124.73) and Rs. 4,122 (USD 57.42), respectively. In urban areas, there are 33 million males and 7.6 million females who are self-employed, with an average monthly income of Rs. 16,067 (USD 223.8) and Rs. 6,994 (97.42), respectively.
In the wage-salaried employee segment, 28 million are rural male and 6.8 million are rural females, while in urban areas, 39 million are male and 11 million are females. The average wage/salaries are Rs.17,990 (USD 25058), Rs.14,560 (USD 202.81), respectively for urban males and females, and Rs.13,533 (USD 188.5) and Rs.8,939 (USD 124.51), respectively, for rural males and females.
As far as casual laborers are concerned, there are around 56 million males and 2o million female workers in rural areas, and 13 million males and 2.9 million females in urban areas. The per day average wage rate for rural male workers was Rs. 268 (USD 3.73), that for female was Rs.173 (USD 2.41), while for urban male, the daily wage was Rs.324 (USD 4.51) and for urban female casual laborers, Rs.194 (USD 2.7) per day.
Even if we assume, 25 workdays in a month for which they have got work to do, the average monthly income of rural male, female would not exceed Rs. 6,688 (USD 93.16), Rs. 4,325 (USD 60.24), respectively, while in urban areas the figure was Rs.8,094 (USD 112.74) for males and Rs. 4,856 (USD 67.64) for females, respectively.
Therefore, the common people of India earn less than Rs.10,000 per month (USD 139.29) (see table below), on an average, as per the PLFS.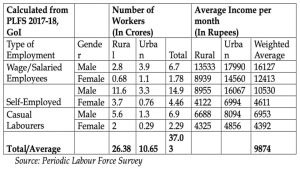 Since, the worker population ratio is around one-third in India, in per capita terms, the average monthly income would be Rs.3,300 (USD 45.97) or Rs. 110 (USD 1.53) per day per head. Obviously, some of us earn much higher than Rs.3,300 per head per month. But, there is huge inequality in income distribution.
In India, less than 3% people come under the direct tax bracket. Even if we include the agricultural rich, complete direct tax evaders etc., and if the average family size is assumed to be 4.2, or even if we assume there is only one earning member in each family, the direct tax payee population would not exceed 15% of the total population in India (who earn more than Rs.20,000c(USD 278.58) per month, per family). Therefore, 85% of India's population is practically poor. Their average per family monthly income would be below Rs. 10,000 for sure.
Higher Education, a Far Cry for 85% Families
Now, the question is whether children born in these 85% families should get some opportunity for higher studies (forget equal opportunity/level playing field etc.), or not. A median Indian family (which is exactly at 50% of income-wise population distribution) earns less than Rs.5,000 (USD 69.65) a month or less than approximately Rs. 60 per head (USD .84), per day. Obviously, children from these families would not be able to study unless education is made absolutely free in an underdeveloped, poor country like India.
Therefore, the question arises whether the State has any responsibility here or not. Whether taxpayers (everybody pays indirect taxes) are paying taxes only for internal and external security, running the bureaucracy, judiciary and legislature or also for government-sponsored health, education, infrastructure etc.
The Indian state has traditionally taken the responsibility and also passed the Right to Education Act in 2009, which ensures free and compulsory education for all children up to 14 years of age. But, what about after the 8th standard (upper primary level)?
There are serious issues about the quality of education and there is always room for further improvement. A lot of private educational institutions are operating in India without any quality check. Those, who can afford it, they are sending their children to these institutions. However, a majority of Indians cannot afford to send their children to private places due to the high cost of education. A majority of Indians, therefore, depend on the free public education system in India.
Education is not only important for upward mobility for the poorer sections but has wider ramifications, too. The national common minimum program of the Congress-led United Progressive Alliance-1 government promised 6% of GDP spending on education. This was 15 years ago, in 2004. At present, government expenditure on education is only 3% of gross domestic product (GDP). This includes Central and state governments.
Some states (like Punjab, Haryana and Karnataka) are talking about providing free education up to the PhD level for girls, but this should be done for all the students/research scholars across states. Income class-wise targeting does not work in our country because of type 1&2 errors (i.e. exclusion of deserving and inclusion of non-deserving), plus, BPL (below poverty line) is defined as the poorest of the poor. Moreover, unhealthy class-based differences should not be created among students within the same academic institutions.
The Real Issue
The real issue is that the government is failing to mobilize resources, given the tax base, despite having fairly high tax rates, because of corruption and loyalty to the big corporates. Salary, pension and interest payments on past debts are beyond the government's control. There is a cap on the fiscal deficit to GDP ratio. That is why social sector and capital expenditure of government are becoming soft targets for squeezing funds.
Private educational institutions are anyway reserved for those who can afford them. Unfortunately, public higher educational institutions are also slowly being made 'self-financed' to a large extent and, in effect, also being made inaccessible to the bottom 50-60% of population. In a nutshell, higher education would be reserved only for the richer section of population unless it is made absolutely free for everybody in the country.
If we choose the future of the country from less than half of the population then, apart from being disgustingly unfair, there would be a huge efficiency loss in the country, and for civilization as a whole.
India's public educational institutions were built in the past by using taxpayer money. In order to make all public institutions of higher learning and research absolutely free, the government has to pay hardly 1% of GDP (i.e. less than Rs 2 lakh crore or USD 30.76 billion) extra and increase the education expenditure from 3% to 4% of GDP. This money can easily be raised by reducing corporate tax concessions and by improving tax compliance (by improving efficiency of tax collecting authority, tax information network and by reducing the degree of corruption).
A majority of countries in the world spend more than 4.5% of GDP on education (see graph below for government education spending of 170 countries). We should not mix up our priorities, if we want to create an equitable, knowledgeable and stronger India.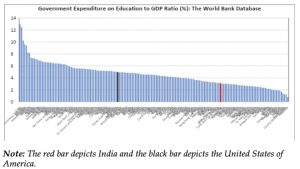 The writer is Assistant professor, Centre for Economic Studies and Planning, Jawaharlal Nehru University, Delhi. The views are personal.