At 4 AM on December 8, a massive fire broke out at a factory-cum-residential building in a crowded market area near New Delhi's Anaj Mandi. According to official figures, 43 people were killed and around 16 critically injured, however, eyewitnesses claim that the number of dead could be as high as 100. 
Most of the workers killed in the factory fire were migrant laborers from the neighboring Indian states of Bihar and Uttar Pradesh. 
"How many workers have to lose their lives before the government wakes up?," asked the relative of a worker who was still searching for his missing kin.
Eyewitness accounts state that at the time of the fire, around 300 people were inside the three story building. The casualties include children as young as 10 years old, many of whom were residents or relatives of the workers. 
"There were two children who used to stay in the building and are still missing, one of them was staying with a relative of mine and studying. He was 10 years old," said Mohammed Tabrez while speaking to Peoples Dispatch. 
The factory housed various small scale production units for glass cutting, plastic toys, bags and fabric printing. It had only one exit and no proper fire and safety mechanism. The rescue operation was also made difficult by the narrow lanes and electrical wires dangling everywhere in the market, common in the old areas of Delhi.
"I got a call from my brother [Raju] at 4 AM, and he said the building was on fire. I asked him to somehow get out of the building and that I am reaching there as soon as possible. I reached in half an hour and I could see the whole building up in flames. We saw two people lying down with bloated stomach because of smoke inhalation. We removed them to safety, and I went back to search for my brother," said Haider while speaking to Peoples Dispatch. After running through various hospitals, Haider found his brother's body at the morgue of Lok Nayak Jai Prakash Narayan Hospital.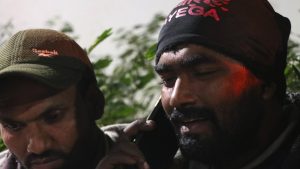 "He was the favorite in our family, he was a caring brother. Last week, he gave me a cap, which he printed for me in the factory he was working. He told me that he specially made if for me, so that I don't get cold while driving my auto-rickshaw. And now he is no more!" he added. Haider and his brother were natives of Muzaffarpur, Bihar. 
Workers from across India come to Delhi in search of jobs, better opportunities and pay, however, many end up embroiled in a cycle of exploitation. They are forced to work for more than 10-12 hours, often not receiving even the minimum wage. Factory owners are known to sometimes lock the factory exits from outside, in order to extract more work from the laborers.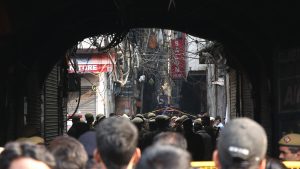 Government's blind eye to the spate of factory fires
On July 13, 2019, another factory fire in Delhi's Jhilmil area killed five workers. The factory which produced plastic and rubber items, was  also situated in a congested area. Previously, a fire at an illegal firecracker unit had killed 17 workers on January 21, 2018. In this case, the exit gate was locked by the owner, which turned the factory into a burning graveyard as the fire raged. 
"Such incidents have become common. Few months back, a factory just near to Filmistan caught fire killing four workers," said Tabrez. 
Despite repeated warnings by trade unions and workers regarding the spate of fire accidents, the Delhi and the central government have turned a blind to the hazardous conditions workers encounter in factories. After the Jhilmil fire incident, trade unions in Delhi had organized a massive protest against the rising number of factory fires. The Delhi labor minister, Gopal Rai had then assured action by the government. However, after Wednesday's Anaj Mandi fire, the government's assurance appears as an empty promise.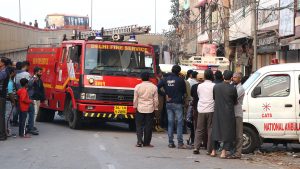 "This is not an incident, it is a clear case of murder. The factory fires are happening because the government doesn't care about the lives of the workers. All the trade unions in Delhi have earlier had a meeting with the Delhi government on the issue of fires, and with the Anaj Mandi fire it is clear that the government is not ready to take any corrective measures," Shweta Raj of the All India Central Council of Trade Unions (AICCTU) told Peoples Dispatch. 
According to the Comptroller and Auditor General's (CAG) Audit Report of 2017 on Social, General and Economic Sectors (Non-PSUs), the government of Delhi has completely failed to maintain a comprehensive database of shops and factories in the unorganized sector. The report noted that "in the absence of such data, the Department neither prepared a comprehensive action plan nor set annual targets for conducting periodic inspections which would facilitate its efforts towards ensuring the legitimate interests, welfare and safety of the workers envisaged under the various acts."
The lack of labor data and regular inspections have led to the spiraling of illegal industries that function without safety regulations, and by exploiting migrant workers. 
India has one of the worst records of implementation of labor laws and safety regulations. Recently, the far-right government in India further diluted the existing laws into four labor codes. The stringent norms and inspections to ensure implementation of labor laws and safety regulations have been replaced with self-declared compliance filings by the employers. 
* At the time of publishing this article, another factory fire was reported in Delhi's Kirari furniture market. So far, no casualties have been reported. 
(Additional reporting by Mukund Jha from New Delhi)