Carlos Alberto Pedraza Salcedo was a tireless social and community leader from the south of Bogotá. His brother Gustavo Pedraza described him as "a son of the working class" and a "son of the public university." Carlos' desire to change the reality of the Colombian people brought him to be socially and politically active in his neighborhood in Bogotá, working for the defense of human rights, and establishing economic alternatives in the countryside to commercialize peasant products.
He was a member of the Political Movement of Social and Popular Masses of the Center East of Colombia and Congreso de los Pueblos (the People's Congress). He was also a teacher and popular educator and graduated from the National Pedagogical University of Colombia.
On January 19, 2015, Carlos left his house in the working-class neighborhood Molinos II in Bogotá to attend a meeting and he was never heard from again. Two days later, his body was found on a farm in the municipality of Gachancipá, 60 kilometers outside Bogotá, a place Carlos had no connection to. He was 31 years old.
Since that day, his family members, comrades and friends have been engaged in an uphill battle to learn the truth about what happened to Carlos and demand justice. Due to their persistent struggle they have faced immense obstacles, including threats and harassment from state and non-state actors.
Five years later, the state still claims that it has no answers about what happened. Peoples Dispatch spoke to Gustavo Pedraza, Carlos' brother, about Carlos and their struggle for justice.
Peoples Dispatch: Five years have passed since the forced disappearance and assassination of your brother Carlos. What happened on January 19, 2015 and what else have you learned since then?
Gustavo Pedraza: On January 19, 2015 Carlos left our home in the south of Bogotá, in the neighborhood Molinos II. He left at 3pm for a work meeting related to the Distributor el ZIPA, of which he was the legal representative, and did not come back. On January 21, his dead body was found 60 kilometers outside of Bogotá in Gachancipá. It was found with a shot in the back of the head.
Since this moment, we have experienced state terrorism firsthand. We have realized that whoever dares to speak, to be, or to think differently, is pointed at with the finger on the trigger, with bullets of the national government.
We have also experienced the impunity, with which the country is managed. The level of criminality is so high that since 2015 till now there have been 1,021 leaders and human rights defenders assassinated in Colombia.
PD: What is happening with the legal process? Have there been any leads in the investigation about the material authors (hitmen) or about those who ordered the crime?
GP: In terms of the legal process it is completely frozen, there have been absolutely no advances. We know that Carlos was disappeared and later assassinated by government entities, the police or SIJIN (Judicial Police). As the director of Forensic Medicine said at the time, this was an assassination carried out by professionals and the armed professionals as we know are the police, military and paramilitary that act with total impunity across national territory.
So since this moment we have been in the search for truth and justice but we do not have a way to prove who the people were who ordered and planned the assassination. The prosecutor has changed three times. First a prosecutor from Zipaquirá was managing the case. Then it was shifted to the Human Rights Unit of the Attorney General's Office with Prosecutor 98, William Wecha. In our first meeting with him he did not give us any answers and said that he was not familiar with the case. Then he argued that he had been on vacation and did not have time to revise the case.
Now it is in the hands of Prosecutor 74 of the Human Rights Unit, María Herlinda Rojas Pizarro.
We have seen that there is a lack of political will in this moment and that is what is stopping us from knowing what happened to our son, brother and comrade.
PD: Can you talk about the repression and persecution that you and your family have faced in the search for justice? What has been the attitude of the Colombian state towards the victims in this case?
From the moment that we buried my brother in the cemetery in the south of Bogotá, we began to be persecuted. That same day I received a call from the police who told me that I should come down to the police station in Puente Aranda [a locality in the south of Bogotá], but that I should go alone, and they did not tell me why I should go alone.
And from then on we began to present the denouncements, in embassies, in different government and state entities, non-government entities, and to the United Nations. We met with the director of the National Protection Unit [a Government agency for security and protecting individuals]. We also began investigative work with the Human Rights Unit of the mayor's office of Bogotá.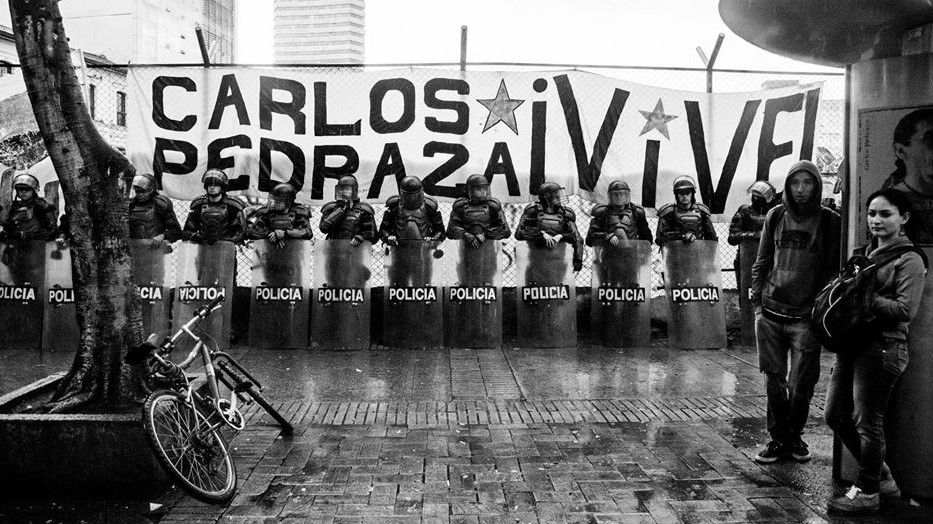 We have done many things, all of which have made us suffer from great persecution. Five months after the fact, I had to leave the country, because I began to be persecuted by the police and non-uniformed individuals outside of my home. My mother also suffered from persecution, they took pictures of her on the bus, on the street, and even at church.
It is a way to intimidate us so that we do not continue our denouncements. We have realized that in the search for truth and justice the only thing we have received is terrible re-victimization and persecution. It caused us to flee the country, practically, because the situation was unsustainable.
On March 26, 2017, I was the victim of a set-up and police "found" a car loaded up with drugs outside of my house. The set-up happened after I had had a strong discussion with a police lieutenant on March 23 when he attempted to search and inspect me with a gun in his hand, which is not allowed. As a human rights defender, I told him off and said that he has to put the gun away because that is not allowed. He got more and more frustrated and insulted by the discussion, and from then on, he was someone else who was out to get me. Two days later, on the 26th, they planted the car outside of my house.
As such, we had to flee the country with my mom in 2017, with the temporal shelter program for Victims of the Violence in Colombia of Amnesty International.
PD: More than 700 leader leaders and human rights defenders have been assassinated since 2016 in Colombia. Why are people who fight for peace and change assassinated in Colombia?
Since 2016 there are more than 700 social leaders who have been assassinated but according to numbers here, since 2015 there have been 1,021 people assassinated for defending the territory, defending human rights, for leading grassroots and community processes, that clearly annoy the government a lot. It is not convenient for them when the people organize and try to solve structural problems that they are not capable of solving. We think that those who struggle for peace and change in Colombia are being assassinated because of this. The government does not allow us to organize and try to solve the different needs that the same government does not guarantee for the people, which is its obligation.
In Colombia they are killing us simply because war has become profitable. The money that should be used for health and education, is being put towards the war, to the military forces, and paramilitary groups that operate with the support of the government. Many times it is the same police officers and soldiers but they simply change their armband or act in a different way. But we see that they assassinate us for doing, saying and thinking differently.
PD: What is the legacy that Carlos Alberto Pedraza Salcedo leaves today for the Colombian people in struggle and for the people struggling across the world?
We believe that the legacy that Carlos leaves us is of struggle; Of unrelenting struggle, of force to continue on, of being consistent in work and tasks, of organization. He leaves a legacy of defense of the territories, of the defense of human rights, of the respect for life. He leaves us this lesson of the work of ants, of care between comrades, without stopping for one moment. He leaves us this lesson that it is possible to do different things and that a country with social justice is possible.
He also talked about how we have to refill our lungs with new air and oxygen and go back to the community and sectorial struggles with more enthusiasm and more effort. His legacy is of working in unity to achieve this national liberation that we have been dreaming of for many years and that has been repressed by the governments that have been in power in Colombia.
"In the end they will not ask what we knew, but what we have done" 
Carlos Alberto Pedraza Salcedo (1981-2015)