Rejecting a vitriolic right-wing campaign by the Hindu nationalist Bharatiya Janata Party (BJP), the people of Delhi have provided a clear mandate to the centrist Aam Aadmi Party (AAP or Common Man's Party) in the Delhi assembly elections held on February 8, Saturday. The seat share of the far-right BJP, the ruling party in India, has failed to reach even the two-digit mark. 
After the vote count was completed on February 11, Tuesday, the incumbent AAP emerged victorious in 62 out of the total 70 seats in the Delhi assembly. Meanwhile, the BJP, which had attempted to consolidate Hindu votes through a hate-filled campaign targeting religious minorities and dissenting voices, only secured 8 seats. 
Arvind Kejriwal led-AAP was formed in 2012 by building on the anti-corruption movement of 2011. The party formed a minority government in 2013 with support from the Indian National Congress (INC) and ruled for 49 days before resigning. In the 2015 election, AAP secured a massive victory with 67 seats. 
The recent Delhi elections have taken place at a crucial juncture as the entire country is witnessing massive protests against the divisive Citizenship Amendment Act (CAA) passed by the BJP government at the center. Since December 2019, students and citizens have raised their voice to oppose CAA, which specifically discriminates against Muslim refugess. Critics argue that CAA, along with the proposed National Register of Citizens (NRC), is part of BJP's larger plan to establish a Hindu majoritarian nation. 
While AAP's election campaign was based on the social welfare schemes focusing on education and health that were implemented during its tenure, the BJP attempted a vicious polarizing campaign targeting the peaceful protests against CAA. BJP leaders openly called for violence against members of minority religious communities, students and anyone who dared to question the citizenship law. Anurag Thakur, a union minister in prime minister Narendra Modi's cabinet, called for: "Goli maro salo koh desh kei gadaron koh" (kill all the traitors). This was followed by two incidents of firing by right-wing goons on anti-CAA protesters – one at Jamia Millia Islamia university and another in Shaheen Bagh- just a few days before the elections.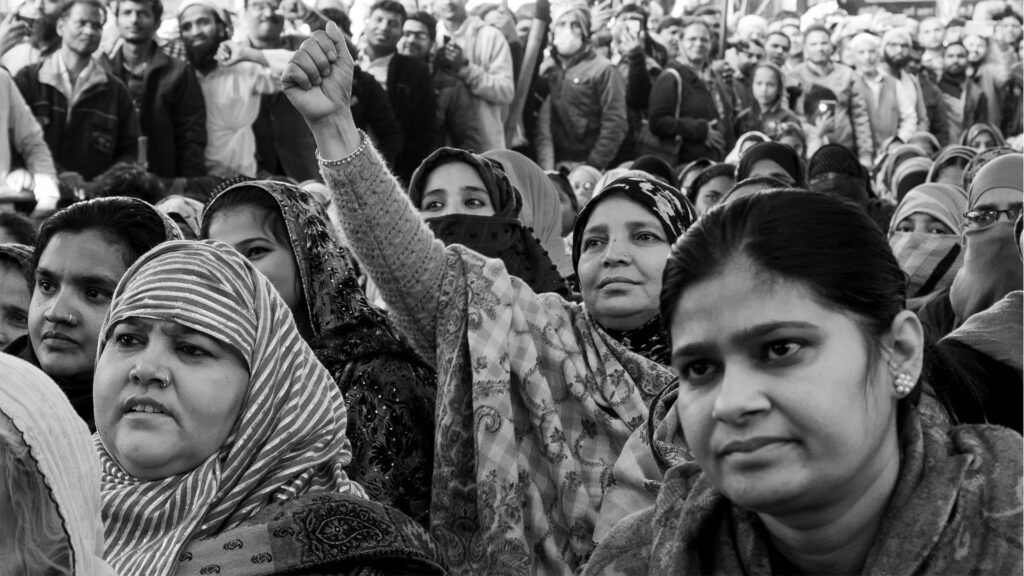 Delhi's Shaheen Bagh area is now synonymous with the popular resistance against the discriminatory Indian citizenship law. The round-the-clock women-led civil disobedience movement began on December 19 last year, after Delhi police unleashed brutal violence against students of Jamia Millia Islamia who were marching towards the parliament in a protest against CAA. Since then, hundreds of people, including students, artists and common citizens, have organized a highway blockade in South Delhi's Shaheen Bagh. 
Faced with the BJP's hate campaign, movements like Shaheen Bagh have sprung up across Delhi, with thousands attending these protests everyday with the demand to protect India's constitution and its secular character.