In a session in the National Assembly on March 1, Argentine President Alberto Fernández announced that within ten days he would present a bill to decriminalize abortion in the country. This is the first time that a head of state in Argentina will present a bill of this nature and it is seen as a significant breakthrough for the long-demanded abortion rights in the country.
"A state who cares should accompany all women in all processes, guaranteeing full access to the healthcare system. Current legislation on abortion is not effective. Since 1921, Argentina has criminalized the voluntary termination of pregnant women in the majority of cases," said Fernández.
"A state that is in power must protect citizens in general and obviously women in particular. In the 21st century, every society needs to respect an individual's decision to make choices over their bodies. Therefore, within the next 10 days I will present a bill for voluntary termination of pregnancy that legalizes abortion at the initial time of pregnancy and allows women to access the health system when they make the decision to abort," he added.
The president will also send a project that will guarantee integral care and support to mothers and newborns, as well as ensure effective sexual education in schools to prevent unwanted pregnancies and guarantee woman's self-determination.
Argentine women, activists, feminist movements and social organizations celebrated the announcement with hope.
"We are hopeful that the parliamentary debate will reach a dignified consensus in the face of the country's most powerful movement, that is, feminism," said Marta Alanis, an educator and feminist.
"With the momentum of the streets and consensuses built. We salute the words of President Alberto Fernández, with our arguments. We want an urgent debate, without delay. We look forward to an frank, scientific debate in the framework of rights," tweeted the National Campaign for the Right to Legal, Safe and Free Abortion.
Abortion is illegal in Argentina, but the F.A.L. ruling, established in 1921, allows it to be performed until the 24th week of gestation in case of a rape and when the life of a pregnant woman is at risk.
Though this restriction does not mean that abortions do not happen in Argentina. More than 500,000 abortions are performed every year, with a majority of them being carried out in unsafe and clandestine conditions. The fatality rate from clandestine abortions is very high due to its execution in poor sanitary conditions. The women who most have to access these unsafe and clandestine abortions are generally the most marginalized: poor women, peasant women, indigenous women, Afro-descendant women, sex workers, lesbians, bisexuals, transgender and queer people.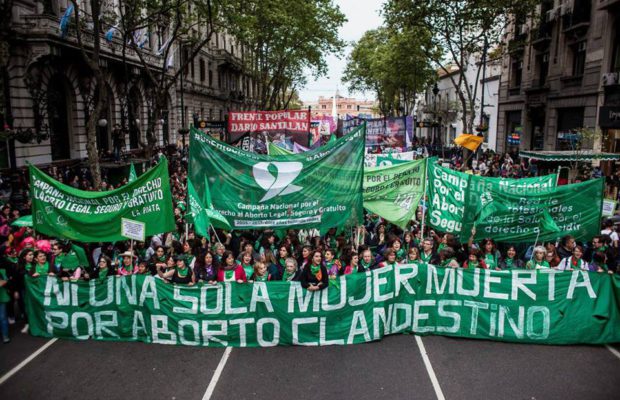 Even in cases where abortion is legal, despite the law, the right to legal and safe abortion is not always guaranteed as different provinces, some health centers and professionals refuse to comply with it due to religious and moral objections.
In 2018, during the previous far-right government of Mauricio Macri, Argentina witnessed several protests demanding legalization of abortion. In June 2018, the bill for Voluntary Termination of Pregnancy (IVE) was approved by the House of Representatives with 129 legislators supporting it and 125 opposing it. However, in August 2018, the Senate rejected the bill by a margin of 38-31, denying hundreds of thousands the right to legal, safe and free abortion.
However, this year, with a progressive President in power and his support for this integral right, the determination of Argentine women, lesbians and non-binary people to fight for the right to choose for their bodies and their lives has been strengthened.
This March 8, on International Day of Women's Struggle, Argentine women, feminist movements and social organizations such as the National Campaign for the Right to Legal, Safe and Free Abortion and the Ni Una Menos (Not One Woman Less) collective, will hold a two-day strike and mobilize across the country to demand the approval of the new Voluntary Termination of Pregnancy (IVE) bill, the implementation of the Law on Comprehensive Sexual Education (ESI) and an end to gender based violence.