Protests and demonstrations were held in different parts of the United States as German chancellor Angela Merkel made her 19th official visit to the country and met president Joe Biden on Thursday, July 15. A coalition of activist groups and civil society movement calling on Merkel to "free the vaccine" have been organizing demonstrations in Washington DC and New York City, among several other locations.
On Thursday, activists laid down body bags outside the White House with a puppet resembling Merkel, demanding that the German chancellor stop blocking and stalling vaccine patent waivers. Demonstrators held placards and banners that read "Free The Vaccine" "Germany: Stop Blocking Global Vaccine" "Delay = Death" and "WTO #TRIPSWaiver Now".
The organizers, which included groups like People's Action, Health GAP, Justice Is Global, and Public Citizens, stated that the body bags represented the global death toll due to the pandemic ever since the waiver was first proposed. "[The] Merkel puppet will bear witness to the sad reality that Delay=Death," the organizers had stated when announcing the demonstration.
A spontaneous flash protest was held by protesters, along with some students and alumni, at the Johns Hopkins University (JHU) in Baltimore, Maryland, on the same day. Merkel visited JHU to receive an honorary degree granted to her by the university for her "principled global leadership".
Students and alums of @JohnsHopkins are organizing a rapid response against this. All students, professors, alumni, and community members can add their voice here: https://t.co/SwP4yLGkGC https://t.co/w2sL1xEnyf

— Tobita Chow (@tobitac) July 14, 2021
#AngelaMerkel 's delay could kill us all. Grassroots leaders making her feel the crisis she is causing at Johns Hopkins https://t.co/ImoSRWG0Hi

— Justice Is Global (@justiceisglobal) July 15, 2021
Protests were also held in Portland, Oregon, on Thursday, in which health and trade justice advocacy groups like Oregon Fair Trade, Portland Jobs with Justice, Oregon Nurses Association, Alliance for Democracy, and Nurses for Single Payer participated. Another protest was held in Berlin on the eve of Merkel's visit to the US, near the Brandenburg Gate, with a small group of demonstrators asking Merkel and Biden to "free the vaccine".
From Oregon to Germany! We say Human Lives Over Pharma Profit. We say no to Germany's blocking of the #TRIPSwaiver! @GermanyinUSA @EUintheUS @GermanyUN @EU_Commission pic.twitter.com/pNxJTbjVKw

— Oregon Fair Trade (@ORFTC) July 15, 2021
BREAKING: Angela Merkel and Joe Biden, played by two Avaaz activists, just demolished a 6m long "patent wall" in front of the Brandenburg Gate in Berlin — calling on both leaders to suspend patents of Covid-Vaccines, a day before they meet in Washington D.C. pic.twitter.com/rrDUzN2UUS

— Avaaz (@Avaaz) July 14, 2021
Public health advocates and activists in the US and around the world have been demanding that richer countries stop blocking patent waivers for COVID-19 vaccines. While the two leaders did talk about COVID-19, vaccine patents and intellectual property (IP) waivers were conspicuously absent from their discussion.
The European Union (EU), especially its executive branch, the European Commission, has been reluctant to support vaccine patent waiver. Germany, which hosts some of the largest pharmaceutical firms in the world, has been the most reluctant, stalling proposals for waivers both at the EU and World Trade Organization (WTO).
Earlier this year, the US agreed to support a limited TRIPS (Trade-Related Aspects of Intellectual Property Rights) waiver at the WTO, proposed by countries like South Africa, India and China. This caused a domino effect with groups and parliaments of other rich nations allied to the US expressing varying levels of support to the waiver proposals.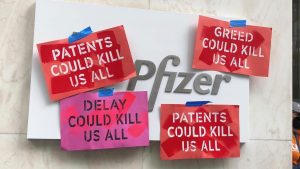 The demonstrations included a major protest in New York City on Wednesday, July 14, outside the headquarters of Pfizer, which has produced a leading COVID-19 vaccine. Pfizer has also been one of the biggest opponents of patent waivers, and has openly called for other governments around the world to oppose such proposals.
More than a 100 people participated in the protest, which began with a march from the United Nations' Dag Hammarskjöld Plaza to the Pfizer headquarters, passing by the German consulate in New York.
"@pfizer how many more have to die before you break the patents?" #EndVaccineApartheid pic.twitter.com/5w4PHIgk2u

— Justice Is Global (@justiceisglobal) July 14, 2021
In the era of #COVID19, pharma greed could kill us all. That's why People's Action and Justice is Global co-anchored an action yesterday in NYC to take the fight straight to Pfizer's doorstep. We want to #endvaccineapartheid. Join us!
Join the fight: https://t.co/TqM2B57wXq pic.twitter.com/TOK43ciQyx

— People's Action (@PplsAction) July 15, 2021
Protesters held a sit-in outside the Pfizer headquarters and the street adjacent to it for more than an hour, despite threats of arrest by the police. The protest was led by the grassroots group, People's Action, along with Health Gap, Center for Popular Democracy, Metro NY Health Care for All, and Religions for Peace. It was also supported by AIDS awareness and advocacy groups like ACT UP New York and VOCAL New York.