Facing low pay, zero benefits, and a wave of violent thefts, delivery workers have emerged as the most dynamic force in grassroots labor organizing in New York City. This line of work has become essential in feeding the city's 8.5 million residents as a majority of restaurants have moved away from directly hiring delivery workers. Now, around 80,000 delivery bikers work for apps like UberEats, GrubHub, and DoorDash to provide this service.
"It is so unsafe, there are so many dangers [on the job]. There is so much theft, and many who are killed," said César Solano Catalán, a 19-year old bike delivery worker from Guerrero, Mexico.
Stirred by worsening conditions throughout the pandemic, these workers are pushing forward a multifaceted struggle to improve their working conditions.
"We decided that we had to do it ourselves, because if we don't do it nobody else will."
Electronic bikes have become an industry norm to overcome the challenges of long distances and the city traffic. Costing up to $3,000, these bikes have made delivery workers the targets of robberies, and while essential for work, they are not covered by their employers.
"None of the companies pay for your work tool, the bicycle, the bag, or the helmet. Everything you have to buy out of your own pocket," César told Peoples Dispatch.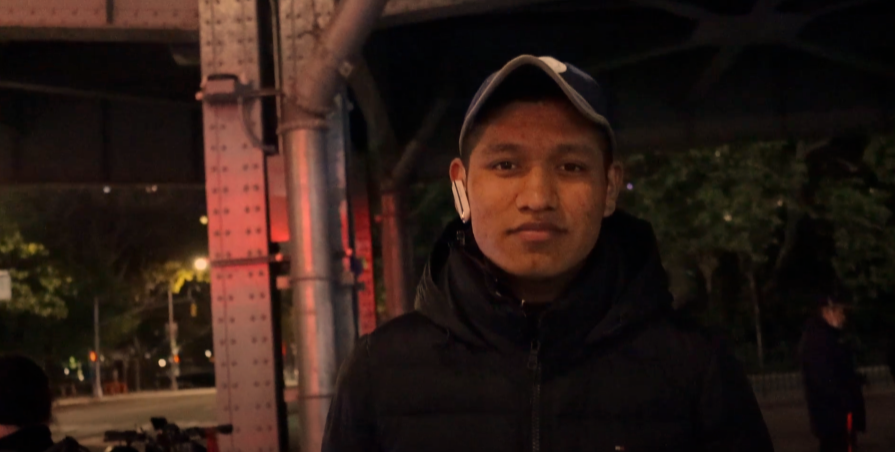 According to a survey of delivery workers by the Workers' Justice Project and Cornell University's School of Industrial and Labor Relations, 54% of participants said they have had a bike stolen and about 30% said that they were physically assaulted during the robbery.
César and some of his family members, all bike couriers, had been analyzing the conditions they faced, and began a Facebook page called El Diario de los Deliveryboys en la Gran Manzana or "The Delivery Boys in the Big Apple Daily." The page serves as a channel for workers to report bike thefts, assaults and deaths in their community across the city. Small groups on WhatsApp and Telegram have served as a place for workers to share info and stay in constant communication while on the job. Delivery Worker Alerts, Emergency Group, and Robbery Alerts in the Big Apple are some of the larger and more formalized groups used to send updates on bike robberies and assaults.
A slew of violent assaults at the Willis Avenue Bridge, which connects Manhattan to the Bronx, galvanized César and his colleagues to organize a nightly security brigade. After finishing a day's work, bikers stand guard at the bridge. They coordinate groups of workers to cross it together, the simple rule of safety in numbers.
"We decided that we had to do it ourselves, because if we don't do it nobody else will," César explained. "There are some nights that we cannot come because of exhaustion. It is very hard. In my case, I work all day and then at night I come here and I'm here until one AM or midnight," he commented, adding that "we have been here almost every night, about 90% of the days over the past four months."
Delivery workers across the city are forming similar night guard teams. Like at the Queensboro Bridge, which connects Manhattan to Queens.
An essential workforce misclassified and underpaid
App-based delivery workers are classified as independent contractors, so the companies that contract them like Uber and DoorDash aren't required to give them a livable hourly wage and benefits like paid sick leave and health insurance. In New York City, delivery workers earn an average of $7.87 an hour, nearly half of the state's minimum wage.
The survey conducted by the Workers' Justice Project and Cornell found that a majority of those interviewed work at least five days a week and over half work six or seven days. A large majority of delivery workers use apps as their full-time job, according to the report.
The precarious nature of the job affects even the most basic rights, like permission to use the bathroom. 83% of delivery workers surveyed in the Workers' Justice Project report said they had been denied access to a bathroom at a restaurant where they had gone to pick up an order.
Thanks to a legislative fight waged by the Los Deliveristas Unidos, linked to the Workers' Justice Project, City Council passed a landmark set of bills to give workers this right and more last month. The bills also guarantee a minimum pay per trip, limit how far workers can be asked to travel, and include a series of measures to prevent workers from getting their tips stolen by apps.
Ligia Guallpa, Executive Director of Workers' Justice Project, spoke with Monica Cruz outside City Hall on the day the bills were voted into law. "New York City has decided to take on [these bills] as a way to send a strong message to the apps that you can not come and expect to not treat workers with dignity and respect in our city." She continued, "This is a message to the apps, but also it sets an example for other cities and municipalities across the country that it is possible to regulate multi-million and multi-billion dollar companies."
Casualties ignite resistance 
As if the possibility of getting their tips and their bikes stolen wasn't enough to grapple with, workers must also contend with the possibility of losing their lives while working. The Workers' Justice Project and Cornell report found that at least 10 delivery riders had been killed on the job from January through September of this year.
The Department of Transportation recorded almost 3,000 bike accident injuries in the first nine months of 2021. About half of the surveyed delivery workers in the Workers' Justice Project report stated that they had been in either an accident or a crash while working. Many workers don't have health insurance. Data from the report also showed that 82% of those surveyed never received any sort of safety equipment from the apps.
"When people have accidents, the companies do not cover anything, the hospital [bills] and the days of rest," César, founder of the Willis Avenue Bridge guard explained. He added that "we don't even have a salary that can support us."
The legal team at the Workers' Justice Project recently scored a small victory, getting Doordash to cover a portion of medical expenses for an injured biker. Though these victories are far too few, one thing is clear: workers are building their strength from the bottom up. From Los Deliveristas Unidos to El Diario de los Deliveryboys en la Gran Manzana, workers are employing an array of tactics to guarantee their safety, fight for their dignity, and build unity.
"There are a lot of us, from the Mexican community, from Guatemala, Ecuador, Bangladesh, Africans, everyone is here. But what we need is unity, because us Latinos are already here, and we are getting closer to people from other countries little by little," César expressed with certainty.
"On one hand we have this [organization], but also we have improved our friendships because normally a delivery worker leaves his house, and is in his own world, he doesn't know who anyone else around him is. So if something happened, he would prefer to go home and just get over it. But that has changed," César explained, adding that now when he goes off to work, there is much more communication between the workers about how their shift is going, if they are facing any problems, and just generally checking in.
He continued, bright-eyed, "And not only in the cases of thefts and muggings, but also in terms of building community. We say 'oh tomorrow is my birthday, I'll invite you to my party'…We might not be from the same country, but we have come together in unity."
Monica Cruz is a reporter with US-based media outlet Breakthrough News.