Progressive sections in Italy organized a massive protest during the G20 summit that took place in Rome last week. On Saturday, October 30, during the opening of the summit, a massive protest rally titled 'You G20, We the future!' was held in Rome. Left-wing political parties, trade unions, youth/students groups, climate activists, and others took part. The protesters denounced the G20 summit, an international coordination summit of advanced countries, as a muscular exhibition of neoliberalism and imperialism and a showcase for the powerful countries responsible for global exploitation and oppression. 
This year's summit was the sixteenth meeting of the G20 group of nations. It was attended by leaders and representatives of 19 countries that are the world's largest economies, the European Union (EU), and invited guests from a few other developed countries.
In Italy, a country which was severely affected by the pandemic, working class sections have been up in arms for more than a year with continuous strikes and mobilizations across sectors against the neoliberal policies of the government led by Mario Draghi, also the current president of the G20 group, and attacks against labor.
Potere al Popolo (Power to the People) participated in the march and denounced the G20's profit-based development model that risks destroying the planet. Prior to the march on Saturday, Potere al Popolo stated, "We'll be in Rome to impose our model, environmentalist, anti-racist, pacifist, anti-capitalist. A model whose center is not the freedom to exploit and make profits, but the freedom to exercise our rights and to realize our potential!"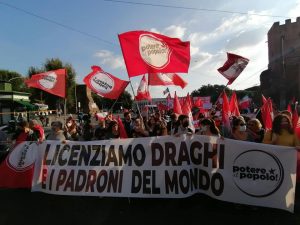 Regarding the mobilization on Saturday, the Communist Youth Front (FGC) stated, "the G20 is the representation of the attack that governments and masters are conducting against workers with management of the pandemic where the costs of the crisis are unloaded onto the popular classes."
"The G20 is the enemy not the solution: we make the masters pay for the crisis!" FGC added.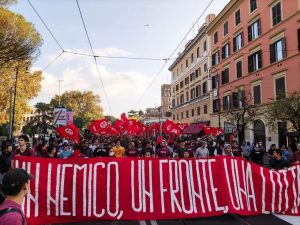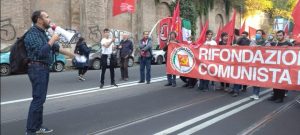 The Communist Refoundation Party (PRC) in Italy and the Young Communists (GC) joined the mobilization in Rome and stated that the "Mario Draghi government that turned ecological transition into fiction, does nothing against job precariousness and low wages, fills big business with money and increases military expenses, doesn't invest in the relaunch of schools and public health."