India's urban areas were once considered engines of employment and economic growth. But that's no longer the case thanks to the complete failure of Narendra Modi's economic policies. As a result of this, rural areas, especially agriculture, continue to absorb a larger share of working people than needed. This means that the same income is being divided among a larger number of people. But where will the urban mostly educated youth go?
According to CMIE data, in the past three years, the urban unemployment rate has been hovering at about 8%. It shot up to a whopping 25% during the ill-conceived first lockdown in April-May 2020. Then it came down a bit only to go up again in May 2021 to nearly 15% during the deadly second wave of COVID-19 and the accompanying restrictions. Again, it came down after the restrictions were eased. But when it comes down, it stays at around 8% or more. [See graph below]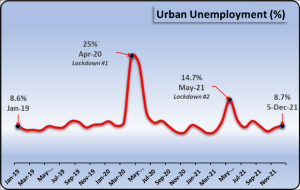 This jobless rate—for three years running—is catastrophic for families. It means that a vast number of families are surviving on debt, charity or perhaps subsistence level casual work whenever it is found.
Number of employed declines

According to CMIE estimates, in January 2019, the total number of persons employed in urban India was 128. 4 million. This has declined to 124. 7 million in the beginning of December 2021. In other words, even as the population has grown (and so has the working-age population), there is an absolute decline of about 370,000 employed people in urban areas.
Compare this to the rural situation, where, in the same three year period, the number of total employed persons declined from 277. 7 million to 276. 8 million, that is, by about 900,000. The fact that there is a decline in the rural areas too is worrying—but it is still less than the fall in urban areas.
Apart from the fact that agriculture continues to absorb more labor in distress, various programs like the rural job guarantee scheme also help in providing some relief in rural areas. The number of persons getting jobs in this program has increased from 78.8 million in 2019-20 to 111. 8 million in 2020-21 and 90.6 million as of December 11, 2021, according to the latest data available at the official MGNREGA portal. Clearly, the rural job guarantee scheme is providing a cushion to millions of hapless unemployed persons in rural areas though it is only a meagre relief far short of the 100 days per household target and with bare minimum wages.
In urban areas, there is no such relief available although there have been repeated demands for a similar job guarantee scheme.
Falling work participation rate

An even more worrying—indeed, shocking—piece of information emerges from the CMIE survey data. The work participation rate itself is falling in urban areas. From about 41.5% in January 2019, it has slid down to 37.5% in December 2021. [See graph below]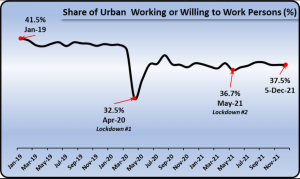 This is the share of people who are either employed or currently unemployed but willing to work. It is a sum of both employed and unemployed persons.
A decline in this share shows the grim nature of the unemployment crisis—people are so frustrated and broken that they have lost hope and are no longer looking for work. When surveyors contact them, they simply say that they are not available for work any longer. This can happen only if they are tired and discouraged by the job situation and biding their time for better days.
You can see in the graph above that the work participation rate slipped down to a record low of 32.5% in April-May 2020 during the first lockdown. The economy was shut down except the essential services and agricultural work (harvesting of Rabi crop was in progress). In urban areas, the lockdown was ruthlessly implemented through the police and administration. Hundreds of thousands of migrant workers trekked back to their villages. People were just not interested in working or looking for work because they realized that no work was available at all. This is an example of why the work participation rate falls.
Surprisingly, during the second wave, in April-May- June 2021, the work participation rate did not dip in the same way. This is because the lockdowns were not as restrictive neither were they universally implemented. But more importantly, people were so devastated by the preceding year's shock that they just could not afford to stay away from work. So, even though the jobless rate soared to nearly 15% (see first graph above), the work participation rate saw only a slight dip, going down to 36.7% in May 2021 but again rising to above 37% in subsequent months.
But it has ended up considerably lower than what it was three years ago. There is practically no "recovery" or "bounce back" as far as urban employment goes irrespective of what the GDP numbers might show.
This urban catastrophe will have serious repercussions for the Bharatiya Janata Party's (BJP) support base. Joblessness is one issue that has dominated State Assembly elections for the past several years. In most states, the BJP has suffered depletion or even loss driven by this, among other factors. And the same is likely to happen in the coming elections in five states scheduled for February-March 2022.