On May 15, anti-fascist groups in Austria commemorated the 77th anniversary of the liberation of the Nazi-run Mauthausen concentration camp in Upper Austria at the end of World War II. Activists from the Communist Youth of Austria (KJO), Jugend Front, KZ-Verband (VdA), Austrian Party of Labor (PdA), Federation of Tyrolean Anti-fascists, Communist Party of Austria (KPO), Communist Student Association (KSV), and others paid respects to the fallen heroes of the Austrian resistance and the victims of Nazi terror in the concentration camp in Mauthausen and its nearby sub-camps.
They also paid tributes to the Soviet Red Army which was instrumental in the liberation of Austria from the clutches of Nazism. They reiterated the promises of the Mauthausen Oath made by the survivors of Mauthausen on May 16, 1945, in which they resolved that "commemorating the blood of all nations spilled, remembering the millions of brothers murdered by Nazi Fascism, we pledge never to leave this path. On the safe foundations of the international community, we want to build the most beautiful monument we can place to the fallen soldiers of freedom: The world of the free man."
Following the German annexation of Austria in 1938, the Nazis opened the Mauthausen concentration camp in Upper Austria near Linz. The Mauthausen camp, along with its several big and small sub-camps, was one of the five massive camp complexes run by Nazi Germany during world War II. According to estimates, over a period of more than six years, around 200,000 people were enslaved there, of which reportedly around 90,000 people were killed. The prisoners included Poles, Jews, communists, socialists, anarchists, members of the Austrian resistance, Roma people, Jehovah's Witnesses, and prisoners of war (POWs) from the Red Army and other allied forces.
The horrific crimes committed by Nazis in the camp were revealed to the world when a squad of US soldiers found the camps on May 5, 1945, which had been almost abandoned by the Nazis exhausted by the Soviet Red Army's Vienna Offensive (March 16, 1945 – April 15, 1945). The US army liberated the camp complex in the following days and the final batch of inmates composed of prisoners from the Soviet Union left the camp on May 16. The prisoner committee formed by the inmates of the camp had also mounted a significant resistance against the weakened Nazi administration in the camps during the last period of Nazi tyranny in Austria.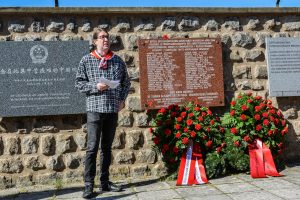 In his speech at the commemoration ceremony on May 15, Tibor Zenker from the leadership of the PdA remembered the 42 members of the 'Welser Group', members of the Austrian resistance from Upper Austria imprisoned in Mauthausen, who were the last victims of gas chamber executions on 28-29 April 1945.  Zenker said that "the Nazis in the last days of the war were not only concerned with weakening the forces of democratic reconstruction, but even more with weakening those forces that would work for a socialist Austria and a socialist Europe on the side of the Soviet Union."
Simon Hintenaus from the Jugend Front highlighted the role of cadres from the erstwhile Communist Youth Association of Austria (KJVO) in the Austrian resistance and stated that "those comrades and hundreds of other anti-fascists remain unforgettable. Their struggle against the fascist occupation and the war of annihilation inspire us."
The KJO said, "year after year, the liberation celebration reminds us of one thing: remembering the victims doesn't mean only speaking anointing words. Remembering always means fighting."